At BeginnerGuitarHQ, we aim to help you learn to become a great guitarist. Its nearly time for Christmas, so if you want to impress everyone you know while also remaining in the Christmas spirit, then use this guide to learn a few of your favourites!
In this important guide, I'll talk you through the best Christmas songs you can learn on guitar. If you're looking to learn a few songs just in time for Christmas, then look no further…
A Few Starting Points…
You'll need a fair grasp of how to fingerpick and use a plectrum when playing these songs. Some require a delicate, emotional feel that fingerpicking lends itself to well, while your plectrum will give off the harsher, louder sound some of the others need.
Typically, these are all easy choices. However, you'll need to practice your hammer ons for one of the harder, faster pieces. This isn't a particularly hard technique, but you can take a look at our guide and strengthen your fingers, then you'll be on your way.
For the final two choices, you should also get a grasp on some strumming patterns. As these are just for fun, you don't really need to learn the exact patterns used in the pieces, but getting the hang of a few patterns that support your voice while you sing.
Finally, you'll need to be able to read tab. I've included a few customised, easy to understand tabs for small sections of some of these tunes, but there are some full scores I've linked to that mean you can take the initial, short piece I've shown you to the next level if you fancy learning the entire piece.
Anyway, here are the ten best (easy) Christmas songs you can learn on guitar!
We Wish You A Merry Christmas
We're kicking off with a nice easy one, where the main and most recognisable melody is built almost exclusively on one small phrase which repeats with a bit of variation.
To make this as easy as possible, I'd suggest starting by creating a shape on your fretboard where your 3rd finger rests around the 3rd fret of the 5th string, and your second finger hovers above the 2nd fret of the 4th string. This means you're already in the exact position your hand needs to be in to play this with ease.
Play the 3rd fret of string 5, then when playing the 3rd fret of string 4 you can simply rest your 3rd finger down to lay across both frets almost like a barre. Then you're free to hit that open string, come back to the 3rd fret and then use your already hovering 2nd finger to move to fret 2.
For the second half of the opening melody, you can move this exact shape up by one string. Now you should be covering the 3rd fret of the 4th string and the 2nd fret of the 3rd string. You can use the open strings to your advantage, and your hand should already be in a place that means minimal movement by default.
The only time within this opening phrase that you'll have to leave the safety of your hand position is when you're coming down to that final 3rd fret, but that movement won't be difficult at all. If you want to keep working on this one, take a look at this tab.
Jingle Bells
This one is also pretty easy because the main melody kicks off with a good few repeating notes, making it pretty simple to play those recognisable opening few notes.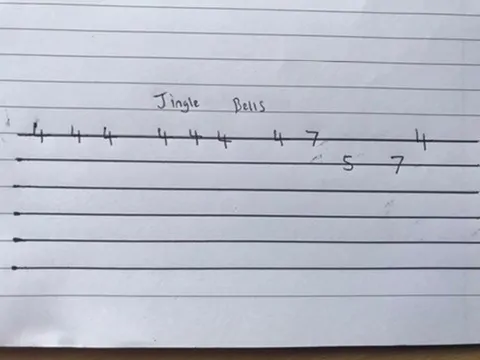 Open by pressing your 2nd finger onto that 1st string 4th fret. This is arguably your strongest finger, so you can press down with ease and get a full sound from the string, plus it gives you the most movement to reach up the higher frets you'll need to access in a minute.
So play those repeating notes. You might need to refresh yourself with the sound of the song if you can't remember the rhythm, as that is one of the downfalls of fretted scores. Anyway, use your 4th finger to stretch to the 7th fret, and then move your 2nd finger down to the 5th fret of string 2, and your 4th on the 7th fret of string 2. This means you're able to take the same hand position and just re-map it onto a different string.
After you return to the 4th fret of string 1, you can move straight back to the comfortable position you were already in! If you want to keep working on this one, take a look at this tab.
Rudolph The Red Nose Reindeer
This one is a bit harder because it focuses less on repeating melody lines and more on some relatively complex hand shapes that'll take you through this fast tune.
I personally would start by using your 2nd and 3rd fingers to hover over the 2nd frets of both string 1 and 2. This means when you're bouncing between the open 1st string and the 2nd fret, you'll be able to it with ease before moving to the 2nd fret of the 2nd string.
Make sure you're able to use your 5th finger smoothly as well when you start playing this piece. You should stretch all the way up to that 5th fret to avoid losing the comfortable hand position you've created lower down and also be able to quickly move back to playing the 2nd fret straight after. This might take a little practice but when you've got your 5th finger strength up it should come pretty naturally.
The second phrase of this one is a little easier as it mostly just alternates between an open string and the 2nd fret. As long as your 2nd finger is strong enough to press hard enough you should be good, but also remember you're going to still need to make that 5th fret leap.
If you want to keep working on this one, take a look at this tab.
Silent Night
While this isn't too hard melodically, the whole point of this tune is to give off a quiet, delicate and vulnerable sound. This means that after you've picked up the basics of the melody, you'll really need to work on your articulation, giving it a soft sound through some good fingerpicking technique.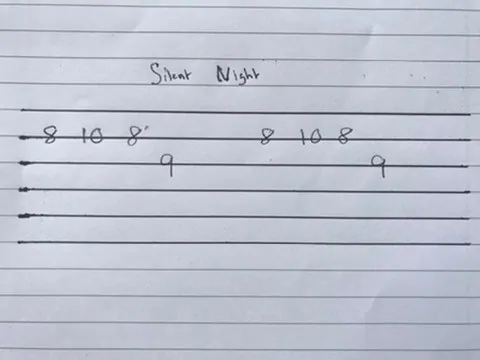 Each of the phrases I've shown here are only made up of four notes, so in theory, you've got it pretty easy here. However, as I mentioned above, you should be making sure that you can get the articulation right in this soft piece.
You'll only need your 2nd and 3rd fingers for this one, so alternate between them in the obvious logical way when moving between the 8th and 10th frets of string 2, then simply move your 3rd finger over to the 9th fret when you need to. This should keep things pretty smooth and give you a good control over your fingerpicked dynamics.
While this opening (and most well-known section) is pretty simple to get a hold of, the rest of the piece becomes noticeably higher and more difficult. If you want to keep working on this one, take a look at this tab.
Carol Of The Bells
Contrasting the above tune, this one is very dramatic in its feel, almost like a film score. You'll need to use a pick to bring out its choral tone, hitting the strings hard enough to give off a harsh tone. This also means you're going to have to be used to playing high notes on high strings.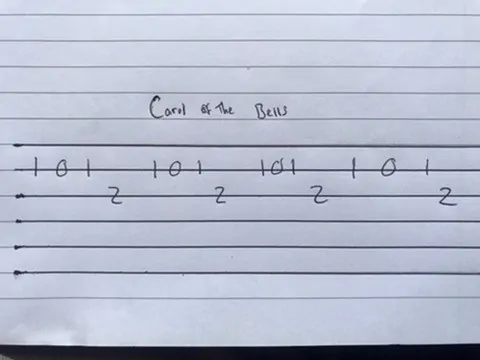 Make an A minor shape without the addition of the 4th finger and you'll be good to go here. Simply pick the 1st fret and then the open string, then use your hammer on skills to powerfully hit back down onto the 1st fret. This makes the whole phrase sound more melodic and natural than if you picked every note individually.
To add a little more flair to this section, try palm muting to start with and slowly allowing your hand to rise up more as the piece progresses and gets more and more intense. If you want to keep working on this one, take a look at this tab.
Good King Wenceslas
You might be starting to see a pattern in many of these pieces, as they're frequently simple and repetitive. This one is built on a simple, repeating melody line that mostly changes lyrics rather than tune.
Again, we have a good few repeating open strings at the start of this one, so you should be able to grasp that pretty easily. Then have your hand positioned so that your 2nd finger is able to press down on the 2nd fret of string 3 easily. For these opening few notes, you can move between these notes smoothly and it'll be seconds before you pick it up.
Then for the move to string 4, you'll need to move your hand position. Luckily, you can maintain your focus on the 2nd fret but you'll also need to have your 4th finger at the ready to reach up that 4th fret. It isn't too much of a stretch, so shouldn't be too long before you pick this section up as well. If you want to keep working on this one, take a look at this tab.
We Three Kings
This might be the easiest one on the list. You're able to repeat one easy melody line multiple times, and the majority of these notes are simply next door to each other. You don't have to build any difficult hard positions, and at times, don't even have to move your hand much at all.
I've decided on an interesting approach for this one which doesn't quite fit the general expectation of how one might structure playing of this kind. This means you're able to play every note of this melody on the same string instead of moving around a variety of places that a total beginner might not be able to pick up so quickly.
You'll still want to try and make it sound as smooth as possible, though, so I'd use my 4th finger on the 7th fret, 3rd finger on the 5th fret and 2nd finger on the 3rd. You'll still need to move around a fair bit, but getting as close to your target fret as you can will mean it'll give that extra bit of smoothness. Of course, once you reach the 2nd fret, you'll have to slide down a little, and playing those open strings will mean moving your fretting hand altogether, but this is still an easier way for total beginners to get a head start.
If you want to keep working on this one, take a look at this tab.
Fairytale Of New York (by The Pogues and Kirsty MacColl)
These last three choices take a bit of a different approach just in case you'd rather strum some chords and have a singalong than play some instrumental melodies. This track is my favourite Christmas tune ever and luckily, the repeating chord sequence is easy to get used to and stays the same throughout much of the song. This means you don't have much to learn, but can pick up the entirety of a well-known classic.
The slow opening verse has a chord sequence that opens with a D chord which hits as the vocalist sings "eve". Then (listen to the track for the timings of each change) moves through a sequence of G-D-A, before looping until we move to the faster verses we hear throughout the rest.
These faster verses are built on the following sequence: D, A, Bm, G which repeats on loop until the chorus, which you can learn here along with the rest of the track.
Last Christmas (by Wham!)
This George Michael-sung track is another favourite, but takes the difficulty down even further by literally having the same, unchanging chord sequence throughout the entire piece. This is another one where you can learn the chords and start a nice singalong on Christmas day.
Start on D major, then move to Bm, Em and finally land on A major. It's a simple as that as they're all easy chords to get a hang of, and they repeat in a sequence you can get used to and then use for the whole track!
All I Want For Christmas Is You (by Mariah Carey)
Our final track is certainly the most difficult for a singer to pull off, what with Mariah Carey hitting whistle notes and acrobatic performances since 1994. However, it is a classic which everyone can get involved with on Christmas day, even if the vocal performance isn't great. I've helped you get started by providing some of the chord sequence, which means you'll be the one providing the accompaniment for this singalong.
This one is actually a lot harder, with some key changes and borrowed chords making their way in amongst some 7th chords. For example, the opening verse makes you familiar with the major minor change from C major to Cm/Eb. If you're using barre chords (which you should be for this tune) then this isn't too hard to formulate, as you only need to move one finger.
Similarly, the E7 chord which comes soon after means you're going to have to practice forming barre chords like this in order to get each note to ring out exactly as it should.
The most famous line of the track ("all I want for Christmas is you") is, luckily, the easiest bit to play. Simply move from A minor, down to D major and then strum G major and E minor after the vocal line is finished with. If this is the only bit you can get a hang of, at least you're able to show off that well known hook.
If you want to go into more detail on this much higher level track then take a look here.
In Conclusion…
You might have noticed that many of these pieces are pretty simple. Whether you want to just get a few well-known melodies under your belt or be able to play some chords while you or someone else sings some lovely pop melodies over the top, these pieces are a goldmine of Christmas entertainment.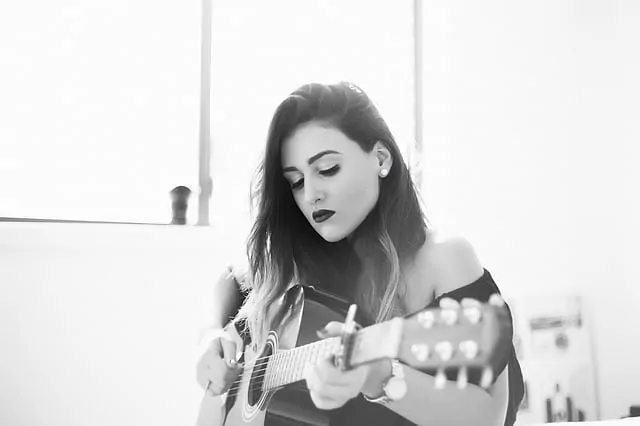 Jen is a guitarist and singer-songwriter who spends much of her time on the road and has lived in 13 cities across 4 continents. She picked up her first guitar at the age of 6 and learned to play by ear shortly after. She received her formal music education at the Berklee College of Music, and currently plays for a few bands in her free time. She has an uncanny ability to improvise creative melodies and harmonies. Her early influences include blues, jazz and rock.