Premiering a couple of years ago, the Gretsch G5420t Electromatic is one of the most popular hollow-body guitars. It's a top-tier offering from a brand that's growing continuously, and we're here to see how it amasses such a good reputation and, at the same time, why it's not as popular as other guitars of its kind.
Gretsch guitars put a great emphasis on hand-craft and quality construction. They tend to deliver unique and original models, and they've earned worldwide fame from the hands of musicians like Bono, George Harrison, Dave Grohl, Bran Setzer, Malcolm Young, and Edde Cochran.
The company began in 1883 with Friedrich Gresthc, a 27-year old German immigrant in the USA. They founded a small music shop in Brooklyn, New York. Initially, the shop made banjos, tambourines, and drums.
12 years later, the founder died, and his young son inherited the company. Decades later, he took the company to greater heights, and so, the brand began making guitars.
Gretsch remains a family-owned company sharing the same values as the founder. They retain vintage aesthetics, vintage sounds, modern electronics, and careful craft.
In 2002, though, Fender and Gretsch became allies. That means Fender handles the production, distribution, and marketing of Gretsch hollow-body guitars. This is how the brand became so popular, able to compete against Fender themselves, PRS, ESP, Ibanez, Yamaha, Gibson, and every other top-tier brand out there.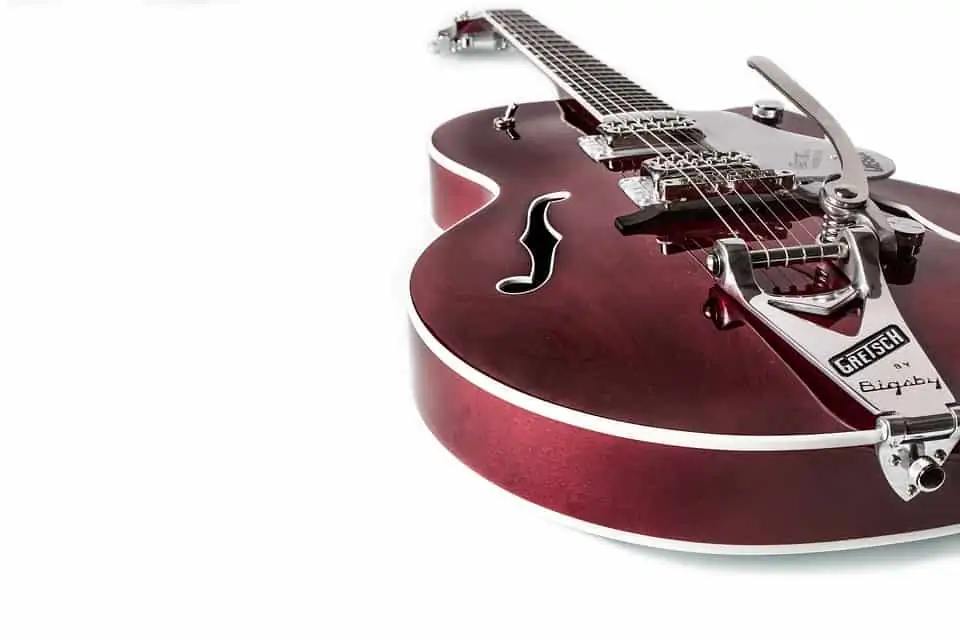 Gretsch guitars are original designs.
The Gretsch Electromatic is a series of hollow-body guitars. Here's a list of the best hollow and semi-hollow guitars you can buy right now, where we already featured the model in the current display.
If you're unsure of what these terms mean, you can also check our guide on the types of electric guitars.
Gretsch Electromatic G5420t hollow body guitar review
The Korean-made hollow-body Gretsch Electromatic is a former best-seller. The series itself -Electromatic- started in the '40s decade as a US creation. It then moved to Japan in the '80s and then re-launched with a more affordable approach back in 2004.
Currently, the Electromatic name serves as the brand's "bread and butter." It takes the classic aesthetics of Chet Atkins Gretsch guitar (the g5120 hollow body guitar) and packs modern electronics, top-tier construction, and plenty of elegance to wrap it up.
The specifications have changed and improved over the years. Unsurprisingly, there's been a price creep as well. The Electromatic name represents mid-tier prices, but no, they are hardly cheap.
In comparison, brands like Squier and Epiphone have learned to add plenty of value to these kinds of guitars while keeping prices well under the $500 price mark.
This is the reason why the Electromatic G5420t is not as popular as it used to be anymore. The price is a far cry from the original $400 mark.
Still, there's a more affordable lineup, the Streamliner, just as much as the best and most expensive Gretsch, hollow body series is the Professional.
Now, we're taking a look at a "refresh," if you will. It's a modern take on the single-cut 6120 from the '50s for fans that can't afford the higher-end, Professional Japanese version.
In terms of sound, not many changes. The tweaks are as subtle as it comes, ranging from seeing the logo in another place from the color of the colored edge binding.
Under its hood, there're upgrades in the wiring and pickups as well. Similarly, there're upgrades in all of the hardware pieces that behave moderately better than what we see on the Streamliner versions.
Overview
The Electromatic G5420t is a no-nonsense guitar offering the pure, raw, and vintage power Gretsch hollow-body instruments can offer.
Its style is bold and its sound is dynamic. The main advantage is its playability, which goes right along with its Bigsby tremolo.
The sound comes from the branded Tron pickups, which explode in clarity, punch, and classic grit. The presence and woodiness are also strong because of the body construction.
At first glance, you'll find an elegant hollow body electric guitar with a professional Bigsby tremolo, a couple of humbuckers, and a sweet amount of knobs.
Overall, the Gretsch G5420t is a quintessential rock n' roll guitar for the ages. It's a sound that can make you proud.
Still, cheaper choices offer similar qualities. We'll explore this later on.
Built quality
The G5420T follows the 6120 design, which was Chet Atkins' hollow body guitar. It's a reissue that brings the same Gretsch old-school looks with new colors, a different logo placement, a new scratch guard, and some other minor aesthetic designs.
It comes in various colors, which include Fairlane Blue, Aspen Green, and Orange Stain. These are all-new colors with deep metallic shades. The tones are striking and come with a silver-backed pickguard, cream binding on the edges, and f-shaped holes in the body.
In particular, its f-shaped holes are oversized compared to the classic model. That changes the aesthetics, but also creates extra resonance, texture, and acoustic output.
As for materials, it has a maple neck, a maple-ply body, and a rosewood fingerboard.
The model comes with chrome plating atop the pickups, the knobs, and the die-cast tuners. Other aesthetic details include the brand's "hump-block" inlays, which are gold dots on the frets.
Its unique body design also includes dual longitudinal top braces, which is a particular kind of soundhole bracing that squares the edges at the front while leaving a small block at the center, under the bridge. The bracing pattern is a special construction of fine wooden layers beneath the soundholes. It both improves the sound projection and stability
Other specs include a 12'' radius neck, 22 medium jumbo frets, a standard U-shaped neck, and a 24.6'' scale length.
Lastly, I add it has the original single-cutaway Electromatic body shape.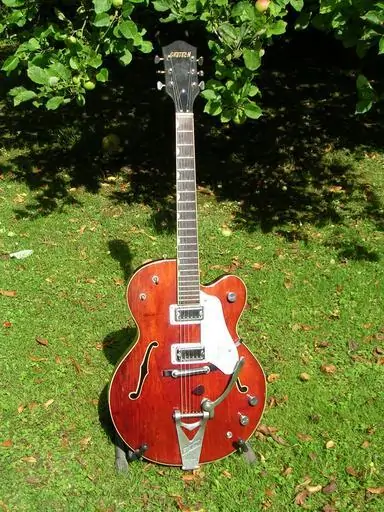 Gretsch guitars have mid-range, upper-tier, and medium price tags.
Bracing pattern
The bracing pattern of the G5420t needs further explanation. As a step up from the Streamliners' choice, is a welcomed addition. Still, it's the place where the brand saved some money in production. }
The higher-end Gretsch hollow-body guitars use a hand-craft intensive system known as "trestle bracing."
On the contrary, the G5420t Electromatic has a simple wooden dowel within the sound holes which goes from the front to the back of the body.
This allows Gretsch to mass-produce the G5420t without much luthier supervision. Essentially, this particular process is known as "sound-post bracing," which some musicians say causes feedback problems when playing at high volumes.
You'd probably never regret getting this particular bracing pattern. However, as I said, this guitar used to sell for around $500, so I don't think a non-professional bracing pattern does justice to its current price.
You can check this price chart to see how the price has changed since 2020. We believe the COVID-19 crisis has also created further price creeps.
Sound quality
The sound coming out of the amp is soft and yet gritty. A better way to describe its tone signature would be elegant rock n' roll.
It's also the Gretsch sound, which you've probably already heard from many records. Most recently, almost any Foo Fighters song. Its tone has the creaky and wooden feel of the tonewoods.
It's not strong, though, quite the opposite. It packs a couple of low-output clean Tron pickups. These feature a subtle shimmer plus an airy resonance. It's far from being the choice for heavy rock.
Even though it lacks raw output, there's something special here, as it is on every Gretsch guitar. I'm talking about an unpredictable dynamic that adds a natural grain and texture to your riffs and rhythm guitar.
The unpredictable feeling of the guitar can both be your friend or your enemy, much like feedback. You'd need to master the guitar before it works in your favor. That's because the volume, overall output, and grit raises and lowers during your performance, an effect that depends on the stage environment as well as overall volume. Get it right and you'll get infinite resonance to support your notes organically.
Add effects like tremolo, delay, or reverb and the sound becomes ethereal. Now, add the Bigsby tremolo bar for an otherworldly sound. However, achieving said results is not easy, especially not for beginners: this is not an amateur guitar.
For this reason, the Gretsch G5420t is an outstanding guitar for recording. It's also an incredible choice to play live, given that you already have a powerful amplification setup. In other words, a proper combo amp with classical sounding voices or, even better, a tubular option.
Something like a small valve tube Vox amplifier could do wonders in your home studio as well. Of course, we're talking about a configuration that's well worth over a thousand dollars, so it better be worthwhile!
<iframe width="900″ height="506″ src="https://www.youtube.com/embed/5n-qwYi51kc" title="YouTube video player" frameborder="0″ allow="accelerometer; autoplay; clipboard-write; encrypted-media; gyroscope; picture-in-picture" allowfullscreen></iframe>
Electronics
The electronics department is very interesting as well.
First, I will mention the Black Top Filter'Tron pickups. These are in-house solutions with quality sound, amazing punch, and plenty of twangs.
They are on the low-output side of the spectrum, however, and they are also classical-sounding. As humbuckers, though, these are still noiseless tapers capable of creating a gritty sound with the right setup.
Moreover, the humbuckers have a robust character and a signature cut. It delivers recording quality leaning towards blues, classic rock, indie rock, rockabilly, and overall rock n' roll.
There's something extra special about these pickups as well. The bridge pickup is placed slightly off-center, which translates into a softer sound and extra sustain. Moreover, if you adjust the height of the strings -and put them closer to the pickup- via the truss rod or the saddles, you'll gain a greater output.
These Black Top Filter'Tron pickups were reverse-engineered from Gretsch's own "Baldwin-era" tapers. This term refers to the general sound Gretsch guitars had between 1968 and 1985.
The brand's departure from said sound led to its 1983 bankruptcy. The troubles remained until Fender extended their helping hands in 2002, and then, together, they created the G5420t in 2012.
The other side of the electronics department is the knobs. The two coils work with a single tone knob, two individual volume knobs, and a 3-way pickup switch at the top left of the body.
<iframe width="910″ height="506″ src="https://www.youtube.com/embed/qNRLd1QHBdE" title="YouTube video player" frameborder="0″ allow="accelerometer; autoplay; clipboard-write; encrypted-media; gyroscope; picture-in-picture" allowfullscreen></iframe>
Feel Quality
As far as hollow-body guitars go, the G5420t is as comfortable as it gets. It's friendly enough for most players, no matter the experience level. However, as I said, the sound needs some experience to tame.
That said, it's a light guitar, with a fairly balanced weight, a smooth fingerboard, a comfortable U-shaped neck, and a 12'' neck radius for all-hands playing. If you don't know, a 12'' radius allows quick solos, chords, arpeggios, and anything you'd want.
Overall, the G5420t is easy and fun to play. It has a smooth fingerboard, low-action strings, and responsive pickups.
Hardware
The hardware starts at the headstock, where you'll find a standard set of open-backed tuners instead of quality Grover tuners, locking tuners, or similar quality solutions. That's a disappointing choice given the guitar has a Bigsby vibrato, which is prone to unbalance the intonation easily.
Even so, these tuning machines are Bigsby branded, so they can somehow survive the use of the tremolo bar. However, if you tune your guitar into drop D, everything will get messy.
At the start of the neck, you'll find a Graph Tech's NuBone nut, which is a top-tier choice we're happy to see.
On the body, there're arrow-thru-G control knobs plus knurled screw-on strap buttons. It looks like a Gretsch guitar.
Regarding the pickups, they are placed with regular mounting screws. Adjusting the height of either the strings or the humbuckers requires you to take the pickguard off, though.
The bridge has a "secured-wood" Adjust-O-Matic, capable of maintaining the intonation and sustain. The saddles are not very stable, though, so they need an extra setup.
Lastly, it has a Bigsby tremolo arm. As you'd expect from a quality hardware piece, it works flawlessly. That's because the saddles and the bridge move with the strings to support the whammy, which is why the guitar stays in tune.
Overall, the hardware maintains the intonation and sustain decently. It could be better though. For example, the tuners are not the best, and changing the strings or adjusting the height is a hassle.
Downside & Alternatives
As I've said various times, the price creep of the guitar undermines its value. It's a great guitar, don't get me wrong, but I'm not sure if it's worth the price tag.
That said, there's an essential piece that needs to change to belong at this price bracket. I'm talking about the tuners, which you can change for a good set of locking tuners.
Other than that, we can check at other Gretsch hollow-body guitars that may suit your budget better.
First, there's the Gretsch 2420t, a fairly similar guitar with "downgraded" humbuckers. These are Broad'Tron BT-2S humbuckers, which are all about versatility.
Then, there's the standard Gretsch Streamliner hollow body guitar. It uses the same Broad'Tron guitars, packs it with a simpler bracing pattern compared to the G5420t, and upgrades the tonewoods compared to the 2420t model. Also, the Streamliner is quite popular.
Sale
Speaking of popularity, the mid-tier G2622t is a best-seller hollow body guitar. It's simpler looking as its aesthetics rely on its natural woods (all maple guitar). As for pickups, it uses the same Broad'Tron pickups, so the only thing that changes is the looks.
You can find other options within the Electromatic Jet series. The Jet series are semi-hollow body guitars without soundholes, which creates an interesting texture and resonance.
For example, the Gretsch G5230t comes with a couple of Black Top Filter'Tron pickups, a mahogany neck, a black walnut fingerboard, and a mahogany body with a maple top. As you see, it packs a lot of quality for a fair price.
Gretsch G5420t Electromatic specs
Design: Gretsch Electromatic hollow single-cutaway body
Body tonewood: 5-ply maple with gloss finish
Fingerboard tonewood: rosewood
Pickups: Black Filter'Tron humbuckers (bridge & neck)
Controls: master tone, two individual volume knobs, and 3-way pickup
Tuners: Bigsby open-gear tuning pegs
Bridge: Adjust-O-matic bridge
Bigsby tremolo
In summary
Why do I like the Gretsch G5420t Electromatic?
Let's not make this any longer than need be. Try out the guitar for yourself and see if its unique but hollow sound can feel your needs.
Remember this is not a solid-body guitar, so it will never compete in terms of war output, distortion, and overall force.
Lastly, while it has a hefty price, it's not without issues and flaws. That said, I consider the Gretsch G5420t as an outstanding guitar, excelling in terms of sound, performance, and quality.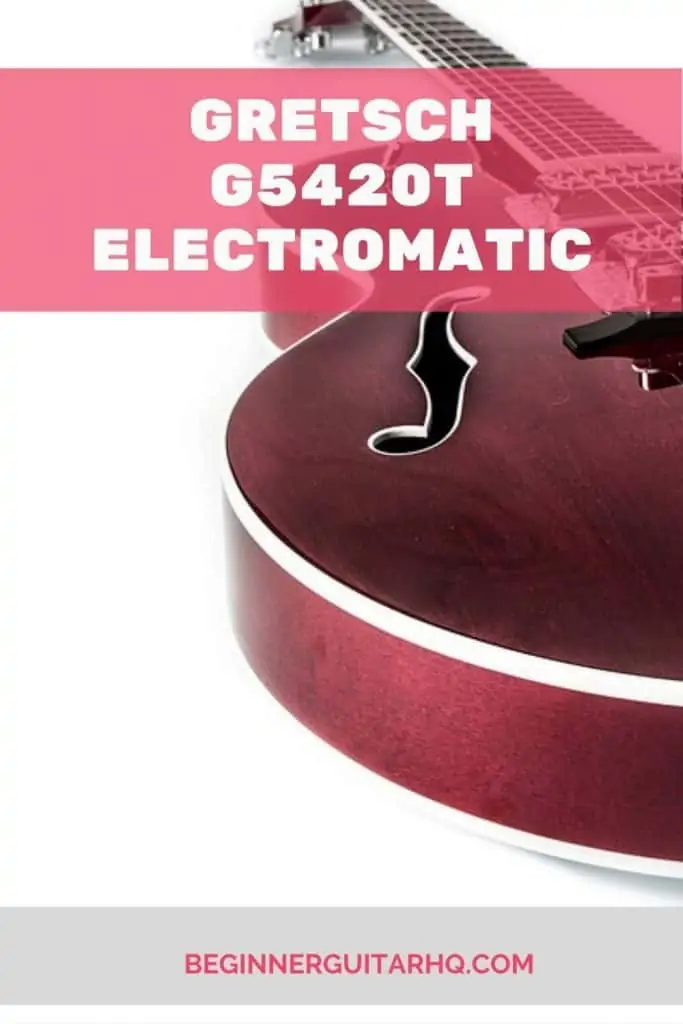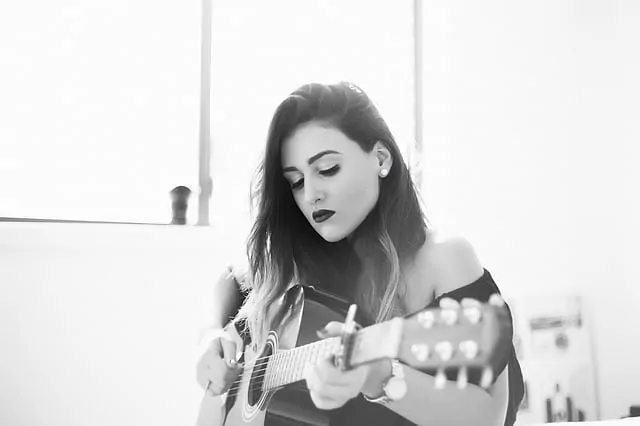 Jen is a guitarist and singer-songwriter who spends much of her time on the road and has lived in 13 cities across 4 continents. She picked up her first guitar at the age of 6 and learned to play by ear shortly after. She received her formal music education at the Berklee College of Music, and currently plays for a few bands in her free time. She has an uncanny ability to improvise creative melodies and harmonies. Her early influences include blues, jazz and rock.