Today, we're taking a look at the AKG P420 microphone. This is a condenser microphone, otherwise known as studio mics for its ability to capture sounds with great detail and accuracy.
At the same time, condenser mics are also lightweight and quite delicate, which is why you wouldn't want to take them to a stage -or anywhere, for that matter.
That's because the membrane (which is the diaphragm that creates the sound) is suspended by fixed plates. Then, the slightest sound pressure, even a breath of air, can cause the diaphragm to move and create the electrical audio signal.
The audio gear comes from AKG Acoustics, a sound engineering and manufacturing company that began in Austria. Currently, they work as a Samsung Electronics subsidiary, and their product line consists of professional solutions for studios such as wireless audio systems, headphones, monitors, and microphones.
With that in mind, we expect the AKG P420 to be a top-tier product.
If you're looking for a stage microphone instead, please check our top selection of stage microphones. We also reviewed the Sennheiser e935 model, which is good enough for both applications.

Condenser microphones are better for studio use as they are delicate and highly accurate. Dynamic microphones are less accurate and more sturdy, thus capable of amplifying the sound on stage, where some abuse is deemed to happen.
AKG Perception 420 Condenser Multi-Pattern Microphone Review
AKG is one of the best microphones producers, albeit their fame has reduced given multiple Chinese manufacturers producing affordable models.
However, the AKG P420 stands apart from the rest of AKG models. That's because the company produced it to go right into the mid-level segment without sacrificing quality or build.
We're looking at a multi-polar pattern condenser mic built for the studio and intermediate musicians. However, don't let the price fool you: it might be "low" for a top-tier musical gig, but its list of features rises way above its pricing.
As it stands, the AKG P420 is one of the most popular condenser microphones on the market. We're taking a closer look to understand how it gained its status as one of the best mid-priced mics out there.
I would say many people also consider the AKG P420 as a "budget" item. Even though there're cheaper mics -like USB mics- condenser models typically sell for twice its price.
Overview
The basic specs of the mic detail a 79 dB signal-to-noise ratio plus a 15 dB noise level. Additional specs also detail a multi-pattern mic with dual-diaphragm.
Let's discuss what these attributes mean. In essence, the P420 has low-noise electronics with selectable sound pickup patterns.
Overall, the Vienna-based musical gear manufacturer created the P420 to respond against Asian budget microphones. It's the company's low-cost model, and it aims at the home recording, EP, and demo market.
To push down costs, AKG used its Chinese manufacturing process. Vienna's laboratories designed the P420 nonetheless, and the entire process goes under AKG supervision.
That said, the P420 is part of the AKG Perception series. It's the most popular of the lineup, but we're going to see some other options of the household down below.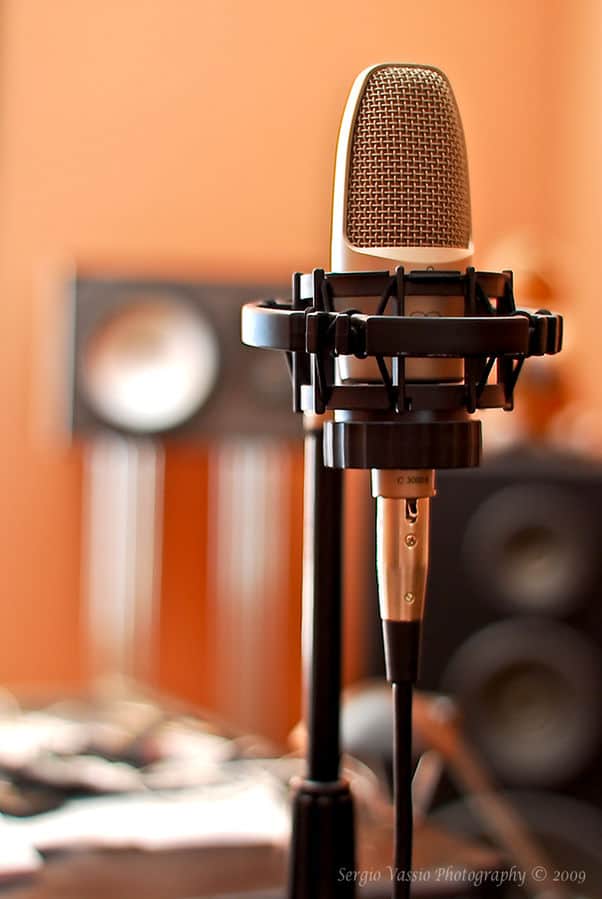 "AKG C3000B" by Serge V / CC BY 2.0 Even though Samsung bought AKG in 2017, the company has its headquarters in California, United States.
Features
To compete against China-made microphones, AKG decided to move their Prestige line to China. That's how they entered the home recording market, but rather than printing the brand's name on third-party-designs, the company designs the circuits and parts back in Vienna.
Enters the AKG P420. It has a dual-diaphragm design, which means it creates larger, higher-output sounds. Additionally, it's more susceptible to gentle sounds.
It's also a multi-pattern mic. That means the pattern in which it picks up the sound can change with the flick of a switch. The patterns it accommodates are cardioid, omnidirectional, and bi-directional.
The Perception 420 also comes with a -20dB pad switch, and a bass-cut filter. The filter allows the removal of wind and blowing noises, as well as other unwanted low frequencies.
On top of the bass-cut, there's also a high pass filter switch, which can reduce high-pressure sounds as well as rumble.
I should also explain the -20dB further. It's an attenuation switch that grants you the ability to work around dynamic sound sources. The feature adds extra versatility, although the option is a bit extreme, so you may want to pass it.
Overall, this mic is a multi-pattern condenser microphone with two large-diameter diaphragms. It's suitable for demanding studio applications.
Built Quality
As for the construction quality, the P420 comes with a quality shockmount plus a metal chassis. Some bundles also ship with a metal carrying case and a shock mount.
The mic features construction quality, durability, and even looks.
That means you don't need to worry about the stability or durability of this mic model. The construction is compact, solid, and fairly hefty. It's just nothing too shiny or particularly appealing like, say, a vintage ribbon mic.
Dual diaphragm design
Having two diaphragms is a rather new concept, and it's also the design feature that grants the multi-pattern design.
In particular, the P420 has two one-inch membranes, which are large diaphragms by definition. A large-diaphragm can deliver a larger, vibrant, and overall richer sound than small diaphragm microphones.
However, small versions -about half an inch membranes- deliver a consistent pickup pattern, and so they're generally more accurate than their counterparts.
With two large membranes, though, you're losing the high precision of top-tier microphones but gain a lively sound in return.
Also, the pair of membranes plug into a set of advanced electronics and a switchable cardioid pattern.
Multi-pattern design
While most condenser mics are small-diaphragm cardioid models, the 420 is strikingly different.
In particular, a cardioid pattern may look like a heart shape. The bottom of the heart is where the mic has more sensitivity, which is right in front of the mic. That's where you would put your sound source, and about 5cm away, at least.
Here's a rundown of the cardioid patterns it has:
Cardioid: it picks the sound directly in front of the sound while eliminating noises coming from the back and sides
Omnidirectional: it picks up sounds coming from all directions, albeit it has a shorter range. It has equal sensitivity surrounding the mic nonetheless, and it works as a room mic to pick everything happening around the room. It's a good option for an ensemble of various singers, acoustic setups, or ambient sounds.
Figure-8 or bi-directional: it picks sounds forwards and backward. Meanwhile, a figure-8 pattern rejects sounds from the sides. You can use it to pick the sound from an amplifier while also capturing some of the amp's natural reverb at the back of the mic, or maybe two singers behind.
Here's a video explaining microphone pickup patterns:
Performance
The mic is able to capture sounds up to 155dB, and deliver warm, rich, and transparent sounds. With the multiple pattern pickups, the 420 models are suited for grand piano, ensemble recording, woodwind, brass instruments, acoustic guitars, electric guitar amplifiers, drums, and percussion.
You could also use it for experimental stereo mixing and recording techniques.
That said, its frequency response goes from 20Hz to 20kHz, which means it covers the whole spectrum of instruments and voices except for contrabasses, violas, drum kicks, and similar.
I would say multi-pattern mics work like a Swiss Army knife, as they could be good for almost any application. You can use them on a project-to-project basis and use all of the recording techniques you know.
More interestingly, the AKG 420 is a great microphone for ambient sound recording. For example, if you're working on a video project or an A/V production, you could use the AKG 420 to capture sounds around your house and use the samples on your video edit.
Having said that, these pickup patterns work to perfection, which is why I recommend the AKG 420 for such an amount of instruments.
The P420 also comes with a lot of axial vibration, so you might want to fix it on a stand, in the exact position you want before recording. Even a small rotation or movement from its angle can dramatically reflect on the results.
Voice-over
In a way, the P420 goes beyond musical applications. The mic has become something of a DIY item for podcasts, vlogs, radio, advertising, and general voice-over.
Its popularity on voice-over applications is well-deserved. It can deliver clear, accurate, and consistent voices
AKG P420 Specs
Frequency response: 20Hz – 20Khz
Sensitivity: 28 m V/Pa
Noise Level: 15 dB-A
Signal to Noise Ratio: 79 dB-A
Attenuation Pad: -20 dB
Bass cut filter: 300 – 12 dB / octave Hz
Impedance: under 200 Ohms
Load impedance: over 1000 Ohms
Power interface: 44 – 52 V current
Audio output: XLR balanced output, male 3-pin
I should note this is a fully analog microphone. That means there's no specific bit-depth or sample rate for this microphone.
The sound quality you hear ultimately depends on the quality of your computer's DAC (digital-analog-converter), which is part of your motherboard's audio capacitors and codes. You could also have a USB DAC, a USB sound card, an extra sound card, or an audio interface.
However, as this is an XLR microphone, the sound quality ultimately depends on your interface. For voice-over/podcast/vlogs use, I recommend the Behringer U-Phoria.
If you use an XLR – to – USB converter, the sound will depend on the other factors I listed.
Sale
Either way, you can read the full specs of the AKG P420 on the official site.
Variety
There're other mics in the AKG Perception line we could also check out. If you're still not convinced by these models, you could check the other mic reviews I've listed.
Also, we reviewed the Audio Technica AT2035 is the best mic to record acoustic guitar. You could check that alternative if that's what you need.
For all else, we start our variety rundown with the AKG P220 Vocal microphone. It's a simpler, cardioid mic with similar sensitivity and frequency response.
It features the same specs and options -bass cut, high pass, and attenuation pass- except for the multi-pattern choice. It also has a single small diaphragm, so the sound comes out less vibrant and accurate.
However, the P220 is a bit cheaper and still very capable of voice-work recordings. It's also a very successful microphone for home studio recordings.
Sale
Then comes the AKG P120, an affordable mic. It has a unidirectional pattern and a low-mass membrane capable of delivering clear vocals and speech. However, its quality doesn't go beyond home studios.
For bass players in specific, the Perception line also offers the AKG P2 dynamic bass microphone. You may use it to record the bass at the studio, but its purpose is amplifying low-pitched instruments on the stage.
Its best feature is its built-in hum-canceling coil. It eliminates unwanted noises to deliver clean sounds. It also comes with a high-performance capsule to withstand low-range sounds.
In Summary
The AKG P420 condenser microphone is an outstanding mid-range condenser model. If you're not a top-tier professional, you probably don't need anything the extra quality a couple of hundreds of dollars will return.
Be mindful of your investments. There comes a time, a budget limit regarding sound gear where the results are going to be diminishing. That doesn't include instruments, but it does include mics, interfaces, mixers, and other sound-engineering devices.
With that in mind, the AKG P420 offers everything you would need at beginner and intermediate levels. With its array of features, you can experiment with the mic for years without fully mastering its qualities. You can grow with it.
Final Say
The AKG P420 is a top value microphone, and you can't go wrong with it. It can be one of the best items in your studio. Just remember to pair it with a good interface.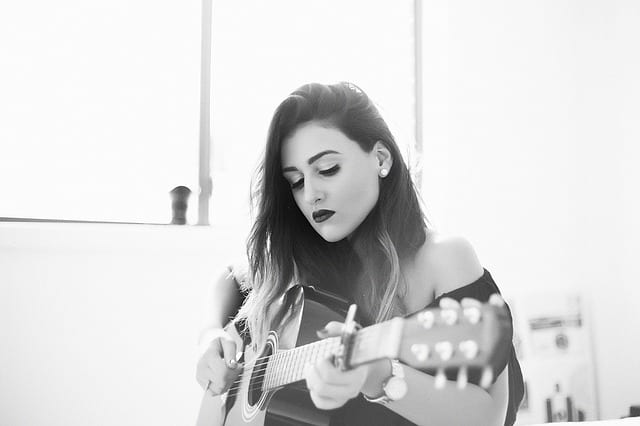 Jen is a guitarist and singer-songwriter who spends much of her time on the road and has lived in 13 cities across 4 continents. She picked up her first guitar at the age of 6 and learned to play by ear shortly after. She received her formal music education at the Berklee College of Music, and currently plays for a few bands in her free time. She has an uncanny ability to improvise creative melodies and harmonies. Her early influences include blues, jazz and rock.