It's a shame that Cordoba Guitars doesn't have a bigger reputation. This is a brand that puts great passion into each of their classical guitars. So, whenever you see a Cordoba-branded model, you're in the presence of a rarity: affordable, handmade, and quality are not often combined. We're reviewing the Cordoba C7 classical acoustic guitar, a professional-sounding model that carries the company's policy in its core. In other words, this is a finely crafted instrument selling for an affordable price.
If you're a beginner guitar player or if you're looking for a first-timer guitar for someone else (maybe your kids), keep reading. I'm displaying everything with enough details so everyone can understand. I'm doing that because the C7 is one of those perfect models that represent the best possible investment you can do as you start your musical journey.
Let's see why the C7 is the REAL thing.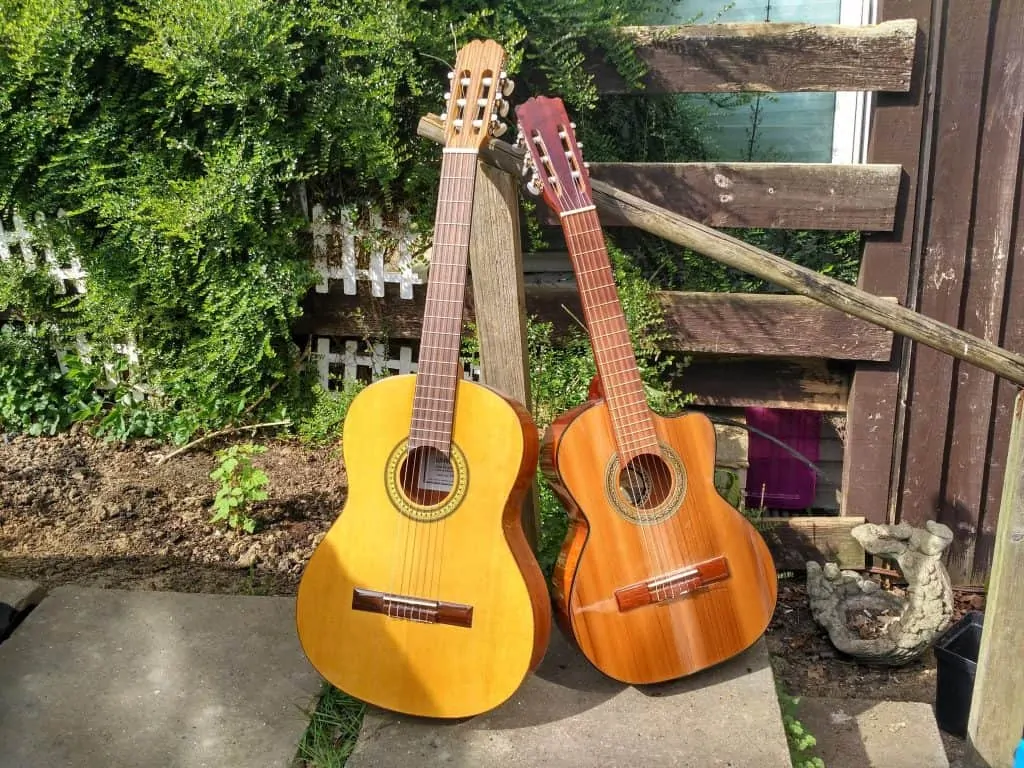 Guitar_and_requinto / By Jo Dusepo / CC BY-SA  Cordoba guitars are handmade classical acoustics with nylon strings. 
Are you looking for other acoustic guitars? Here are some additional guides you can check:
About the Cordoba Brand
Before we go on, we need to revise where the Cordoba brand comes from as it will help you see why the quality of their instruments is in such praise.
The story of the Cordoba company starts with a beautiful tone. Founder Tim Miklaucic grew up with a family of musicians, around guitars, and surrounded by music. Soon he discovered that nylon strings were fading away, even though he considered this type of guitar as the forefather of all modern guitars.
By 1997, after many years of hard work, he found his own guitar company. Unsurprisingly, he chose his household to be a classical guitar builder.
It's also good that Miklaucic's team follows the founder's ideas, so this is a brand that truly believes in the magic of the classical guitar.
Cordoba's HQs are in Santa Monica, California (USA). A young company already competing with top brands creating acoustic guitars like Fender, Takamine, and Yamaha.
Since their very beginnings, Corodba's guitars are a result of dedication, craftsmanship, care, and love. Their secret sauce, the ingredient that allows Cordoba to deliver so much value for such impressive prices is passion. And Corodba's huge success is the best evidence.
Overall, Cordoba guitars follow classical designs and care little about aesthetics. Cordoba guitars are about how they feel, how they smell, and how they resonate against your body as you play them. Most of all, Cordoba guitars are about the true classical guitar sound, the mother of all modern music.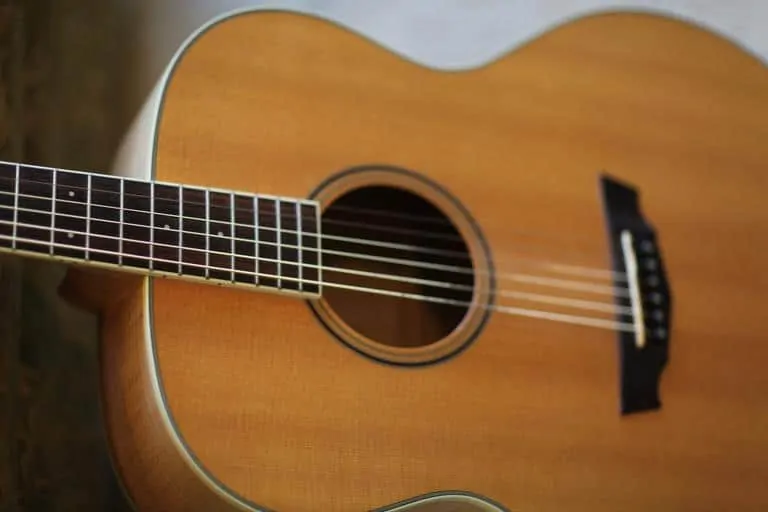 Cordoba's mission is to bring the acoustic guitar to as many professional and amateur players as they can. Here's a list of the Cordoba artists.
Cordoba C7CD/IN Classical Acoustic Guitar Review
This is one hell of an authentic experience. From its tonewoods to its dimensions, from the headstock to the bridge, and even from the construction facilities. The Cordoba C7 is a true Classical Guitar.
The real name of this model is Cordoba C7CD/IN. This is a classical guitar wearing nylon strings. It packs top value for its levels of quality and performance. And even though it doesn't look special, it makes up for it with its powerful sound.
As part of the Cordoba Iberia Series, the C7CD is one of their most popular models. The Iberia Series amasses guitars of all kinds and sizes, which include student models, classical models, flamenco guitars, and stage-ready nylon string electro-acoustic beauties.
Just as you expect from Cordoba, the C7 is handmade, lightweight, and durable. It also packs plenty of comfort on the neck plus many points on performance because of its warm and highly resonant sound.
Last but not least, the Cordoba C7 packs a two-way truss rod for maximum neck stability.
Overview
As you see, the Cordoba company is one of those brands that know how to offer an affordable instrument with true potential.
But the Cordoba C7 is not just another top-value guitar selling for a mid-level price. This is a classical guitar that's on a whole other level and features possibilities others cannot.
Why? Because the Cordoba C7 CD/IN is a handmade traditional classical guitar. Such careful craft is aimed for beginners and intermediate players alike, but it's also suited for professional players as it has endless potential.
This may be the best mid-level acoustic guitar you can buy. And as plain as it looks, it is also one of the best classical guitars you can buy right now.
If you where thinking "budget" and the price is a bit out of your reach, don't worry. I'm giving you a couple of alternatives down below.
Built quality
The Cordoba C7 is a traditional handmade nylon-string acoustic guitar featuring a mix of solid woods plus some Asian woods on the sides and back.
It's crafted with precise attention and results shine with perfection. Even though the C7 is one of the companies' "cheapest" guitars, there's nothing cheap in its built quality.
Let's see.
Body & Neck
This guitar features a solid Canadian Cedar Top plus Indian rosewood back and sides. Plus, it has a traditional handmade wooden rosette.
Then, it has a mahogany neck plus an Indian rosewood fingerboard with a smooth binding to make things softer.
Tonewoods of choice are not just for show. The combination between the mahogany neck and the Cedar Top woods offers amazing tonal properties. Mahogany keeps everything rich and warm while the Cedar tens to make the sound warmer and stronger.
The construction feels very solid, light, and durable. Overall, the fit and finish of this guitar is top-notch. Right out of the box it needs no extra setup, no extra care. It's just perfect.
Finish
This guitar has a natural finish plus high gloss polyurethane to preserve the natural oil of the wood and its colors. Then, it has a high gloss finish on the neck to make it dent resistant.
On top of that, you get the natural color of the Cedar top, which is a light brown tonality. Then, The darker rosewood bind makes a great contrast with the light cedar top.
Lastly, the maple material on the neck is smooth and sharp-free and offers the third tonality, which is somewhere in-between.
It looks beautiful.

Timber_stock / By suvajack / CC BY-SA   Guitar manufacturers use special woods for their guitars we know as "tonewoods." Each tonewood offers different tonal properties to the guitar.
Sound quality
Let's keep this section short and sweet because that's exactly what this guitar represents.
The Cordoba C7 sounds like a fine-tuned guitar. The sound it's just perfect: strong, highly resonant, clearly defined and neatly expressed.
In particular, it has plenty of volume thanks to its traditional type. You could use its natural acoustic resonance for a small 20 people presentation with great confidence. Or you could take the C7 to a professional stage with a PA system and feel proud of how it sounds.
Another thing to highlight is the treble. The highs are highly defined and sound above the mids and the lows. But just enough to be bright, as the C7 has a balanced response across the board. Hence, the lows and the mids are focused and controlled.
The result is something you're going to love. All of the sounds are in perfect harmony with each other. Every note, from the highest to the lowest, are perfectly clear. with none of them drowning the others.
Better yet, the sound is so controlled that the Cordoba C7 won't make any other sounds than what you're playing. No buzzes, no overtones, no hidden harmonics. You're the master of this guitar as there's not so much as a vibration. It's just the perfect classical sound.
Playing the C7 with a pick sounds like what God himself intends. It's pure bliss. It doesn't have the same levels of power with your fingers, but it does come out rounder, warmer, and moderately aggressive.
<iframe width="1279″ height="586″ src="https://www.youtube.com/embed/n93tAVI_5Ec" frameborder="0″ allow="accelerometer; autoplay; encrypted-media; gyroscope; picture-in-picture" allowfullscreen></iframe>
Feel Quality
So far, the C7 is built like the perfect classical guitar. It also sounds like the perfect classical guitar. But can its mid-level budget accommodate for the perfect feeling as well?
Hardware
Hardware-wise, there's nothing out of the ordinary. It's just standard stuff, albeit each pick is sturdy, solid, and effective.
The C7 Classical Dreadnought acoustic guitar comes with a traditional rosewood bridge with a bone saddle. It could be better to be honest, as in it could have 4 adjustable saddles instead of one.
Even so, the bridge is made from Indian rosewood, which influences the tone and adds a few points to the aesthetics of the guitar. I wouldn't change it: the results might not be better, not even with the most expensive acoustic guitar bridge out there.
On the other side of the guitar, there's a set of Cordoba C7 GK open-gear tuning machines. Although the name sounds important, there's nothing particularly interesting about these tuning pegs. Still, they are up to the task.
Lastly, it has a bone nut on the neck to hold the strings tight. Bone is a very reliable material for the nut, so the Cordoba C7 will keep those harmonics clean and buzz frets at bay.
The hardware of this guitar is ready for everything. It won't drop your tune in the middle of your performance, although you do have to keep tabs with an additional tuner.
So, while it's not the super high-end package, the Cordoba C7's hardware is functional and gig-ready. That's a huge benefit.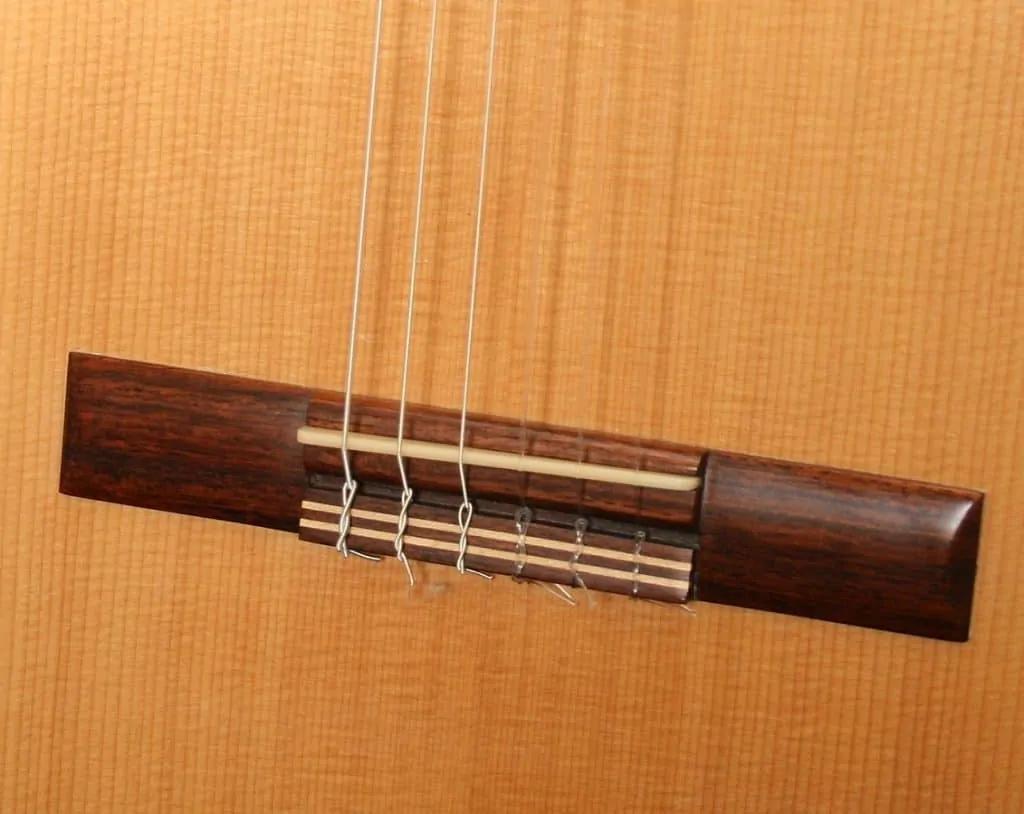 Classical_Guitar_Bridge_Bone by Dirkjot / CC BY-SA The saddles are small chunks of wood sitting below the bridge to hold the strings tight and in tune. guitars.
Playability
The playability of the Cordoba C7 guitar is also of the highest degree.
Most notably, because it has a double truss rod, you can adjust the action of the strings to your liking. That means you (or a luthier) can push the strings closer to the neck so it is easier to play chords. You could also raise the action further from the neck so the guitar has more attack.
As it is, though, it has a perfect balance. The C7 is created in a way beginners would feel comfortable, with low-action, a flat neck, a comfortable neck shape, and plenty of space between the frets.
So, overall, the C7 offers easy playability, in particular for chords and arpeggios.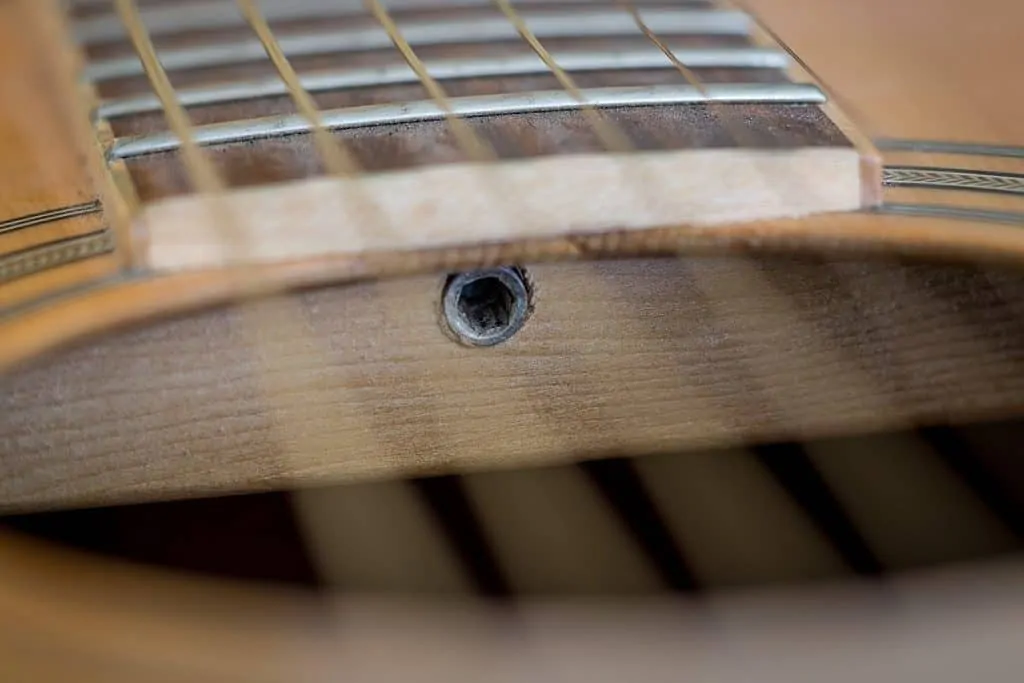 Truss_Rod_Head / by Gothick /  CC BY-SA A truss rod is a thin shaft of metal or wood running within the guitar's neck to keep the strings tight. You can tweak the truss rod through a small hole on the nut. If you loosen the truss rod, the neck bends. But if you tighten the rod the neck straightens because it's resisting string tension.
Downside & Alternatives 
This is the first time I don't find a single flaw in my reviews. I can't find anything wrong or anything faulty in the Cordoba C7. It's just a perfect guitar. And it doesn't cost so much.
Having said that, I need to add the company is selling the C7 as an "entry-level" model. I understand that its price is not actually something everyone has access to.
If money is tight, the best entry-level acoustic guitar I can recommend is the Jasmine s35. It sounds, feels, and looks great. It doesn't have the same professional feels, though. Plus, is not as powerful as the C7.
But take a look at its price!
For a bit less than the C7, you could also get the Yamaha FG800, which is an impressive model featuring advanced craftsmanship for a moderate budget. The FG800 has a particular design under its soundhole to make the sound warmer, more balanced, and more powerful.
Variety
But maybe everything I said made an impression on you. If you're looking for other Cordoba alternatives, here are a few excellent picks for you.
Equally popular but just a bit cheaper is the Cordoba C5. It's made of cedar top with mahogany on the back and sides and features the same measures as the C7. As a result, the sound is similar to the C7.
The C5 lacks some quality in the hardware department. Inntonation is faulty, so the C5 is not a stage-ready classical instrument.
There's also the Cordoba C3M, a small and light model of the Iberia series. This is a budget model suited for beginners and kids.
And if you're looking for a fun electro-acoustic guitar, you could go for the Cordoba C5-CE, which packs the Fishman Isys + 2 pickup system.
A similar guitar to the C5-CE is the Fender CDCE, so be sure to check that one out as well.
Cordoba C7 specs
Design: no-cutaway Classical dreadnought
Tonewoods: Canadian Cedar body with Indian Rosewood on the back & sides
Neck: Traditional Classical-shaped mahogany neck
Scale: 25.6'' long-scale
Fingerboard: 19 medium jumbo frets
Radius: 12'' neck radius
Tuners: Cordoba C7 GK open-gear tuning machines
Bridge: Indian rosewood bridge with bone saddle
The Cordoba C7 CD/IN is part of the China-made Iberia series.

The nut is a small piece that supports the string at the beginning of the fretboard. It defines the vibrating length of the open strings and takes care of the overall harmony of the guitar.
In summary
Why do I like the Cordoba C7 acoustic guitar?
In all honesty, the Cordoba C7 sounds like a classical guitar selling for thrice the money. It's hard to find something as warm, rich, and highly resonant as anywhere else.
More than that, the Cordoba C7 sounds like the real thing. This is the classical sound you've been looking for, and it comes on a guitar that's as smooth and light as they get.
I own this guitar and it calls me to play it every day. The sound is simply too gorgeous to let go. The feeling of how the sound resonates on my chest is something I could feel all day. There's nothing else like it.
The Cordoba C7 is the perfect classical guitar. You don't even have to pay for the most expensive Cordoba models.
Final Say
Cordoba's appeal is everywhere on the C7. Handmade craft, affordability, classical sound, perfection.
A lot of beginners are buying this guitar simply because it sounds great and it looks amazing. But this guitar was already popular before being popular for it's been a standard choice for classical musicians and enthusiasts for many years.
All in all, the Cordoba C7 acoustic guitar is the full package. Not many beginner players could afford its price tag, and not many people opt to go for a full classical guitar as their first instrument. Still, the C7 CD/IN is the perfect place to start and represents a sure-safe investment.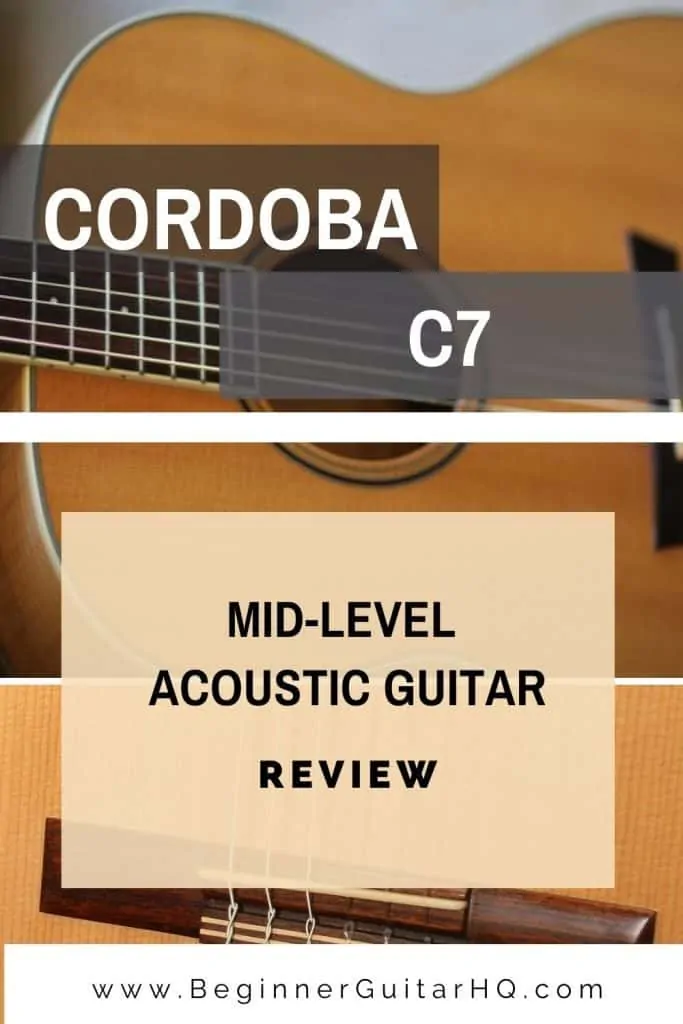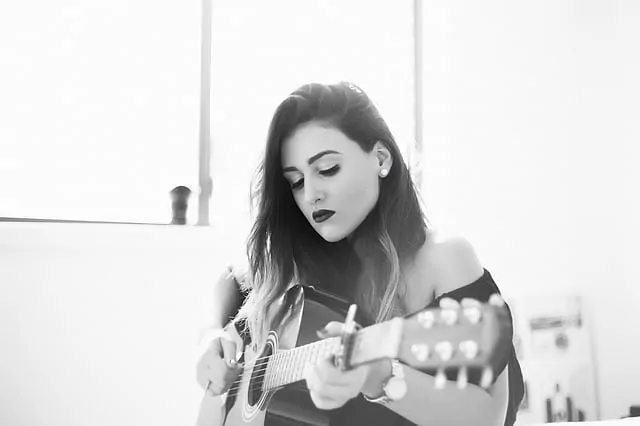 Jen is a guitarist and singer-songwriter who spends much of her time on the road and has lived in 13 cities across 4 continents. She picked up her first guitar at the age of 6 and learned to play by ear shortly after. She received her formal music education at the Berklee College of Music, and currently plays for a few bands in her free time. She has an uncanny ability to improvise creative melodies and harmonies. Her early influences include blues, jazz and rock.