Today, we're reviewing the PRS SE 245, the first-ever 24.5'' long-scale electric guitar from a brand that prefers building bulky all-rounders. This is a mid-level perfection wearing two humbuckers and featuring a wide range of tones.
Whereas PRS guitars are quite expensive, the SE series is made in Korea, and so SE-series guitars are more affordable than their US counterparts.
Sound and look-wise, you're in for a treat, so I hope you stick around until the end of our review to see how you could make this guitar even better.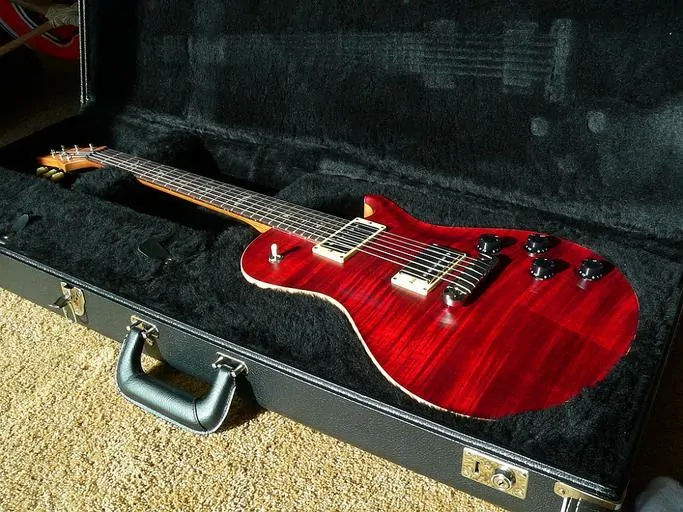 Before we go on, I advise you to check my previous buyer's guide on beginner guitars to check what to look for on these kinds of instruments. 
You can also check our prior guide on the best rock guitars for further info.
About PRS Guitars
PRS Guitars doesn't have enough reputation, but they have more quality than people think
Their tradition goes back to 1975, when the inspired work of a single guitar luthier, Paul Reed Smith, slowly led to the foundation of the company. As a self-taught guitar player and luthier, he managed to create one of the most passionate musical gear manufacturers in the industry in 1985.
Their first model was the PRS Custom, which was an awkward guitar. It went above the traditional guitar size with a bulky 25'' scale length. And by scale length, I mean the entire length of the vibrating part of the strings. 
Today, PRS guitars have passed through some of the most expert hands in the music industry, which include Ted Nugent, Mike Oldfield, Santana, John McLaughlin, and Zachary Myers. 
There's magic behind their guitars, and there's also original thought. PRS is not another brand copying Gibson or Fender models. Instead, they have 100% original models that are just as present in the music industry as the other two.
Furthermore, PRS offers a great variety of guitars for a wide amount of musical genres. Their types of electric guitars include hollow, semi-hollow, solid-body, acoustic, and electro-acoustic. 
Their instrument variety covers for metal, blues, funk, classic rock, R&B, reggae, EDM, jazz, and more.
The company has a large display of models, being the PRS SE 245 its most popular budget option. 
SE stands for the brand's affordable line. However, these instruments are favored because of their stronger necks, tonewood choices, scale length, fretboard quality, control knobs, and sound. 

PRS guitars are expensive, professional, and versatile.
About "SE"-branded PRS guitars
PRS guitars are premium stuff, well over the triple-zero mark. However, if you're looking for a sub $1000 PRS guitar, you'd better go for the SE series.
SE stands for "Student Edition." Early SE models were aimed for beginners and intermediate players alike, but that's no longer the case.
If you're a beginner guitar player, maybe you can look at our best budget guitar lists instead.
2020 PRS SE 245 Electric Guitar Review
Serious guitar players have always been obsessed with the measures of the guitar. The size of the nut, the bridge, the saddle, and the scale length are very important to the most enthusiasts of amateur and professional players.
Guitar anoraks can take these kinds of unrealistic obsessions. If you're a beginner, you probably don't know anything about this, but all of these numbers do actually matter. For instance, the Gibson standard size is 24.75'', which makes these guitars great benders. Fender guitars, however, are 24.5'' long, which makes them tighter and more balanced for chords. 
The PRS SE is a single-cutaway electric guitar with just the perfect measures to play anything BUT metal. In particular, the PRS SE is the company's first model below the 25'' mark (except for Santana's signature model). It has 24.5'', which is quite the move from PRS.
It doesn't have the same voluptuous contour of a Les Paul, or the same single-cut materials of a fat mahogany top-value Epiphone Les Paul. Still, the PRS SE 245 feels sturdy and looks beautiful. The key here is how the 245 is built to last.
PRS models are often hard to criticize, and the 245 is not an exception. Its target is the enthusiast musician looking for a mid-level professional offering. It succeeds at this specific goal.
As you see, this is not exactly a "budget" model. It's a "budget" PRS, though, because this is a brand that offers mostly premium instruments for the professional musician.
Nevertheless, the price tag includes an original vibe, which is not an easy find at this price point. This not a SuperStrat, nor a Les Paul, much less a Stratocaster. This is a PRS, unique, and particular.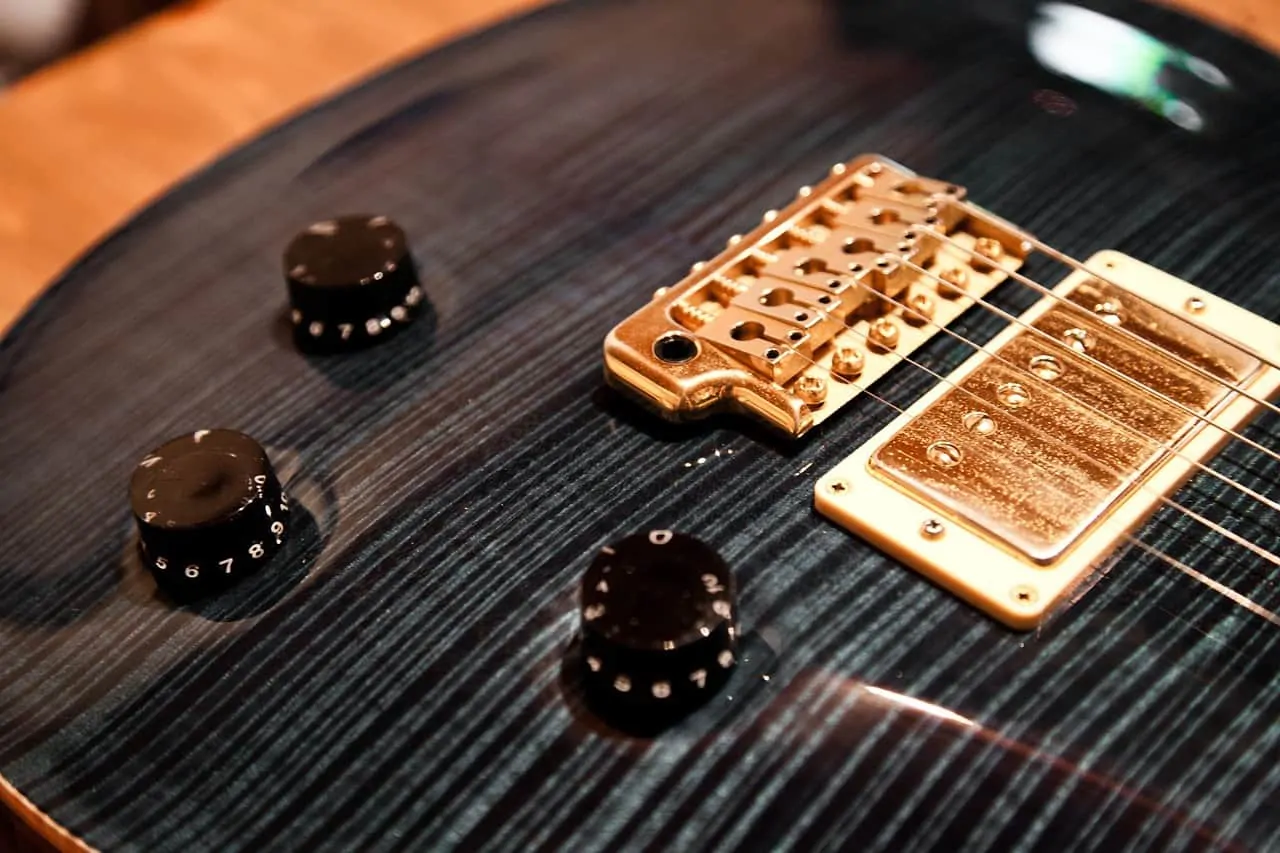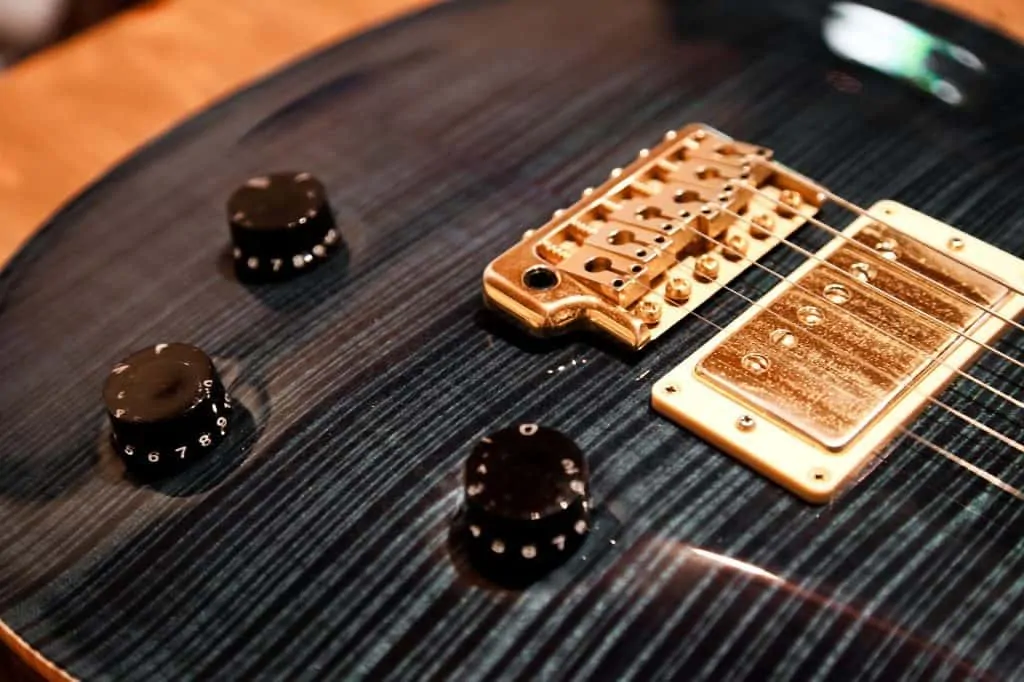 PRS guitars are inspired by the Les Paul as most are have a single-cutaway plus an arched top.
Overview
The PRS SE 245 electric guitar is another evidence of how entry-level guitar models are not what they're supposed to be.
MId-level guitars are not cheap anymore, in the bad sense of the word. Modern guitar affordability can also accommodate for good aesthetics and design features, decently built quality, good playability, and good sound. 
The PRS SE 245 is definitely one of the mid-priced electric guitars you can buy right now. Being SE the budget line of such a reputed guitar manufacturer, this is not a surprise. 
What's a surprise is how the 245 model can be as good as rivaling guitars selling for twice or trice the price. It's so good it passes as a premium alternative. 
Overview? Good enough to record, and cheap enough to keep as your backing instrument at the back of the dangerous tour bus. Great job, PRS.
Built quality
You'd think a "budget PRS" would mean it's worse than their premium stuff. However, this is a rare instrument that offers smooth playing, vintage tones, and gorgeous looks.
Body & Design
The 2020 PRS SE 245 has a single-cutaway mahogany body influenced by the traditional Gibson Les Paul but with enough twists to be its own thing. 
This body is thick and sturdy because it adds a great deal of resonance and sustain to the tone. There's a maple top on the body beveled with a flamed maple veneer. These two add-ons give the guitar a striking visual appearance that's simply unusual at this price point.
Moreover, the body's proportions are made with comfort in mind, which makes this guitar quite the playing partner, either sitting or standing.
All in all, the level of craftsmanship on the body is stunning.
Neck & headstock
Mahogany is also the tonewood of choice for the neck, whereas rosewood is the fretboard's material. Together, the neck and the body make for a 24.5'' long scale guitar with 22 medium jumbo frets.
The neck features the standard PRS' wide-fat neck profile, which is a fan favorite because of how it allows easy access to all of the 22 frets.
However, the rosewood fret of the SE 245 stays away from tradition as it uses elegant PRS bird inlays instead of half-moons or dots.
Overall, the neck feels very smooth, oily, and sharp free. Coupled with the stylish headstock, it all looks very elegant.
Finish 
The finishing touches come with the graphic headstock logo. The headstock sports Paul Reed Smith's signature plus a highlighted SE designation.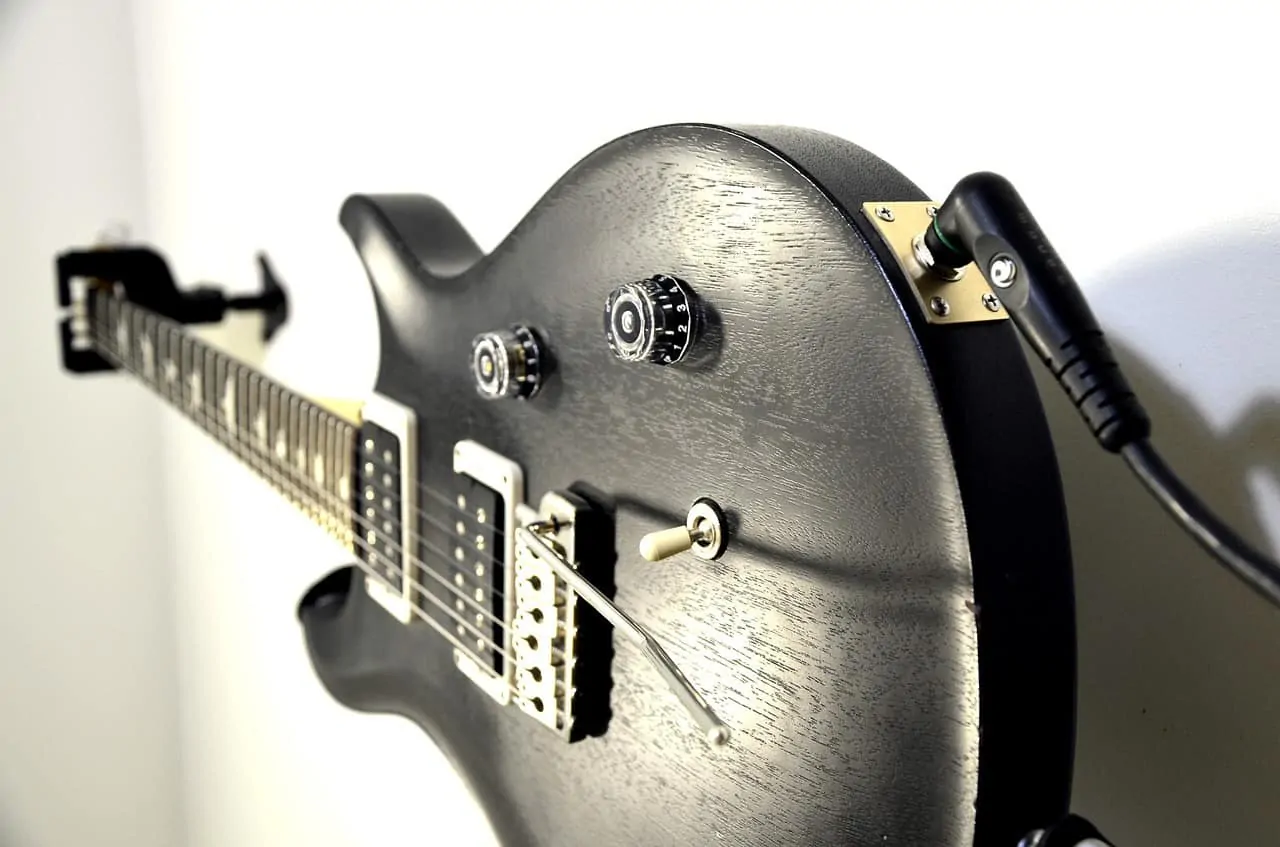 The PRS SE 245 guitar ships in black and red colors.
Sound quality
The PRS SE 245 includes a professional combination of pickups and control knobs. The resulting tones sound like what this guitar should sound: modern rock & heavy metal.
Electronics
This guitar packs a pair of custom PRS 245 S humbuckers. The neck pickup is the "treble" humbucker, and so it sounds higher. The bridge humbucker is the bass pickup, and so the sound is at the mid and low-frequency charts. It's a very versatile combination.
These are medium-output pickups that are made for high-gain, distortion pedals, fuzz pedals, and overdrive pedals. They are also a great mix of metal amps.
The pickups are wired to individual tone and volume controls. There's also a 3-way pickup selector switch to blend both knobs.
It's a standard pickup configuration, the one we've seen on countless guitars. There's anything extra, no pricey push/pull configurations, no coil-tapping, no what-is-that-for-anyway kind of button. It has what it works.
And it works great.
Sound
The overall sound is punchy and dirty of both rhythm guitar and leading guitar. It creates a multi-purpose tone, great for all modern rock, pop, funk, and similar genres.
The overall sound is expressive, harmonic, and rich. It's a great companion for slower-paced music, so shredders should move along.
It delivers great cleans as well. They are warm and have plenty of sustain. Plus, they pack a lot of sound from the mahogany woods, which means there's plenty of room to make the guitar fatter or thinner. 
That said, you can play this guitar on clean and mix it with the guitar effect you want. It interacts great with things like reverb, chorus, flanger, or delay.
Where this guitar shines, though, is in distortion. These humbuckers are focused but loud, harmonic but proud. It's a unique mix that's both smooth and aggressive. Plus, the distortion sounds you get from these custom pickups is what set the PRS SE 245 apart.
All in all, the PRS SE 245 has one of the most versatile sounds in the market.
<iframe width="853″ height="480″ src="https://www.youtube.com/embed/7QiJ9aahaNc" frameborder="0″ allow="accelerometer; autoplay; encrypted-media; gyroscope; picture-in-picture" allowfullscreen></iframe>
Feel Quality
The PRS 245 SE is precise, sturdy, light, and comfortable. It all feels very well made. This good feeling starts in the hardware department.
Hardware
First off, the PRS SE 245 has PRS-branded tuning machines. These are tight, precise, and good looking. 
On the other side, it has a sturdy and stable stoptail bridge that's able to maintain precise intonation.
It's a great combo that makes this guitar maintain tuning and stability even during prolific live playing.

A Stop tailpiece is a metal bar mounted behind the bridge to hold the strings tight. 
Playability
With a 10'' fingerboard radius, the SE 245 offers an all-purpose smooth playing. Its measures are perfect for anything and everything except for metal. Still, theSE 245 guitar allows players to go from solos to chords easily, good enough to go as high as hard rock. 
Because it has a shorter scale than every other PRS guitar, it also allows for easier bending. You can bend with confidence here as well, because the hardware will keep the tuning in check.
It has a wide-fat neck, which is a PRS staple. This is not to everyone's liking, and it's definitely not for beginners. An experienced adult player, though, can find this neck profile better than what Gibson and Fender have to offer.
On your hands, the guitar feels strong, durable, and sturdy. It's not a light guitar, for all that matters, and the neck feels a bit bloated. The result is, as PRS intended, a guitar that's built for maximum comfort instead of speed.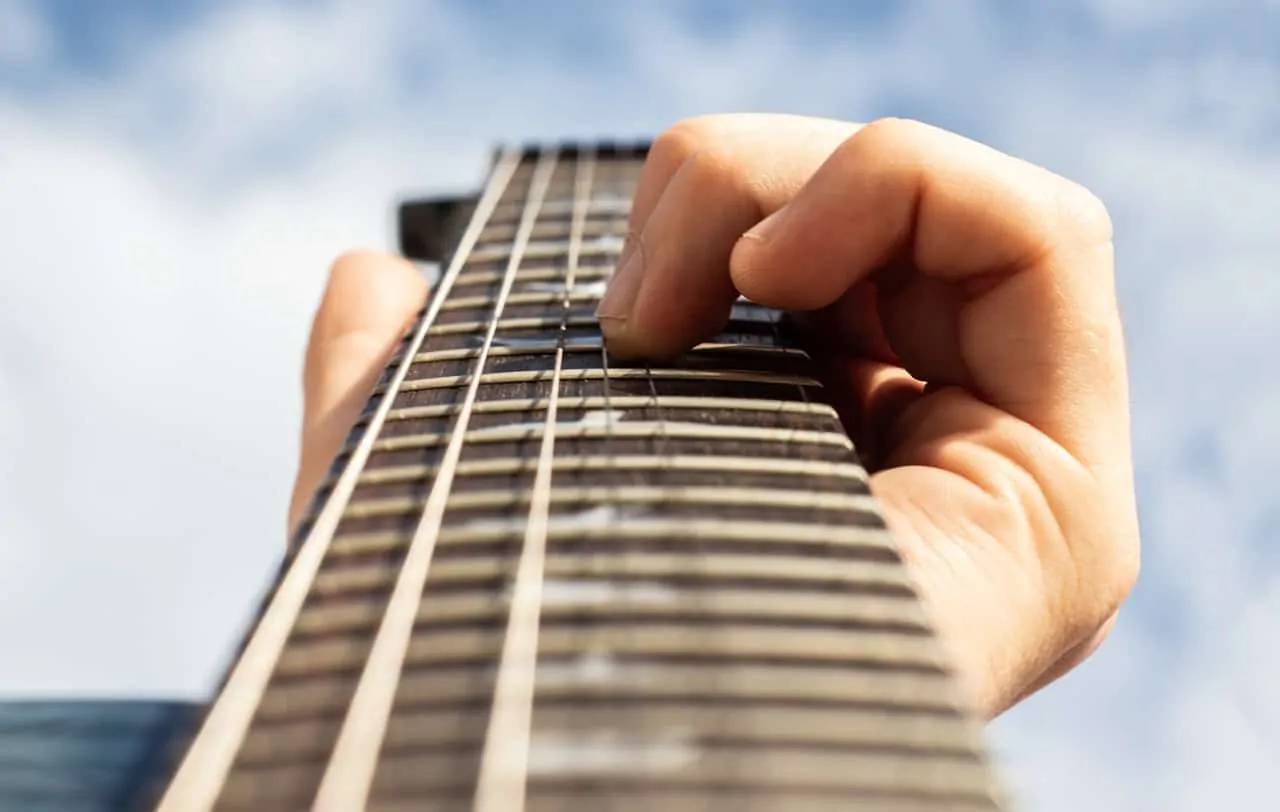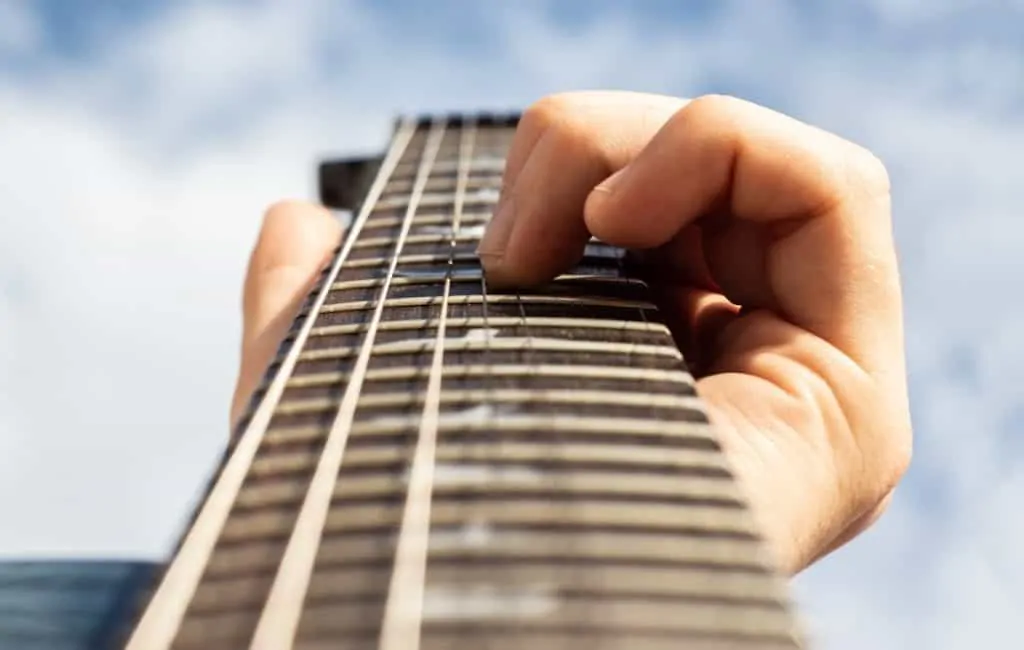 PRS guitars offer some of the widest necks and lengthier bodies in the industry. They are made for fat and round tones plus maximum versatility. In particular, a wide neck enhances bendings, slides, and overall bluesy solos.
Downside & Alternatives 
I can't find any downsides with this guitar. I could be cheaper, though, but, like it is, it's already a fully-fledged professional guitar minus all of those tech extras higher-priced Fender guitars have.
Some players aren't crazy about the distinctive sound of the PRS humbuckers, though, as they tend to linger too much on the vintage side with many amps.
Still, if you'd like to swap these for high-end humbuckers, I recommend the Seymour Duncan Invader set. These are modern, versatile pickups that can play hard rock as good as classic rock.
You could go even more for the vintage sound, though, with a couple of period-correct Seymour Duncan Seth Lover humbuckers. Seth Lover is the creator of the original dual-coil pickup, so this set sounds like Gibson intended.
You can check our previous review on the best humbuckers for further info.
Now, for a similar price point, you may want to check the Mexican-made Fender Player Stratocaster, which is also an all-rounder comfortable guitar.
I don't think there are any other guitars at that price range with the same levels of versatility, comfort, and sound.
Variety
Maybe the PRS brand got your attention. If that's the case, let me share a couple of PRS guitars you could check as well.
The PRS SE Custom 22 is a gorgeous looking guitar with a stunning sound. It packs high-end hardware and quality humbuckers.
Another popular entry is the PRS SE Standard 24. This guitar feels like butter and features gentle coil-tapped humbuckers.
PRS SE 245 specs
Design:

Single-cutaway PRS SE body

Tonewoods

: mahogany body, mahogany neck, rosewood fingerboard

Neck

: wide-neck set neck

Scale:

24.75'' long-scale

Fingerboard:

22 medium jumbo frets

Radius:

10'' neck radius

Pickup configuration:

custom PRS S 245 bass humbuckers (neck) & S 245 treble humbucker (bridge)

Controls:

2 individual volume knobs, 2 individual tone knobs, & 3-way selector switch

Tuners:

PRS custom open-gear tuners

Bridge:

PRS Adjustable Stoptail Bridge
In summary
Why do I like the PRS SE 245? 
PRS SE guitars are amazing, and they are only a taste of what the brand's higher-end models have to offer.
I'd say the SE 245 is so good you can consider it as your main guitar. Playing live with this guitar is something to be proud of: it feels amazing, has a widely versatile smooth and yet aggressive sound, and looks way more expensive than what it is.
Final Say
The PRS SE 245 is a great guitar for anyone looking for a multi-purpose high-quality instrument below the triple-zero mark.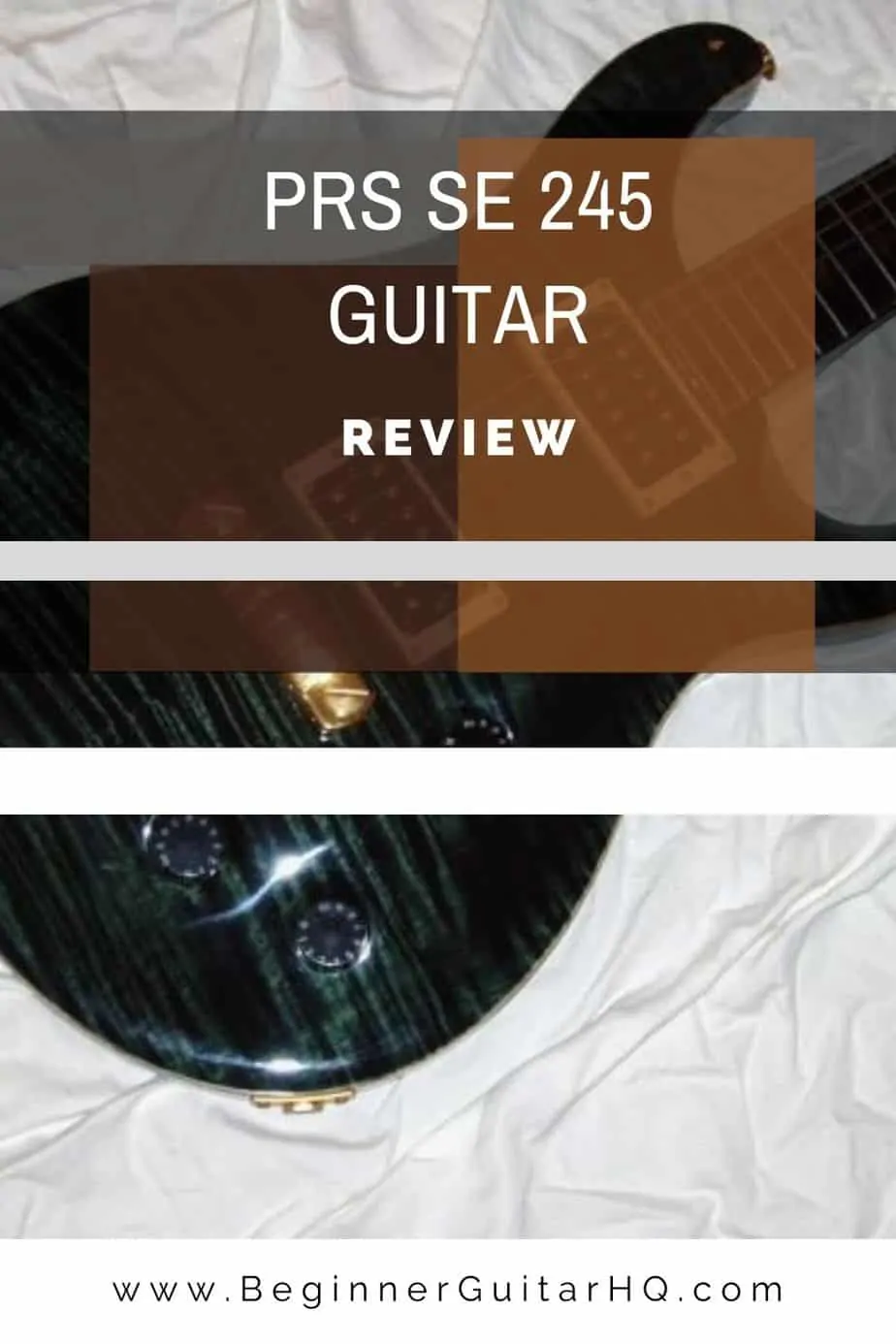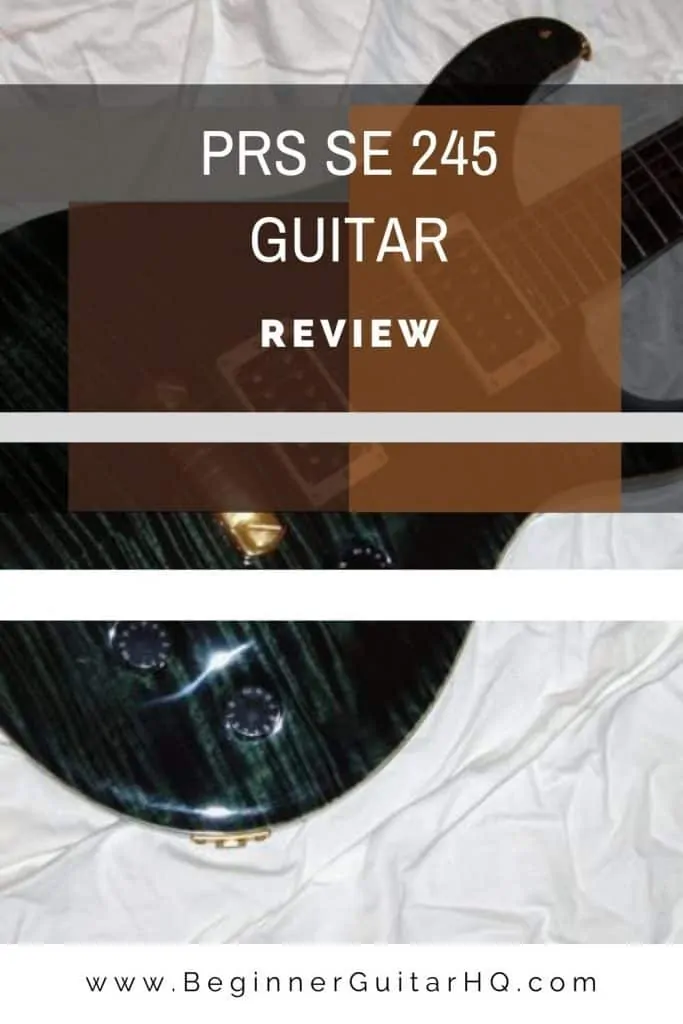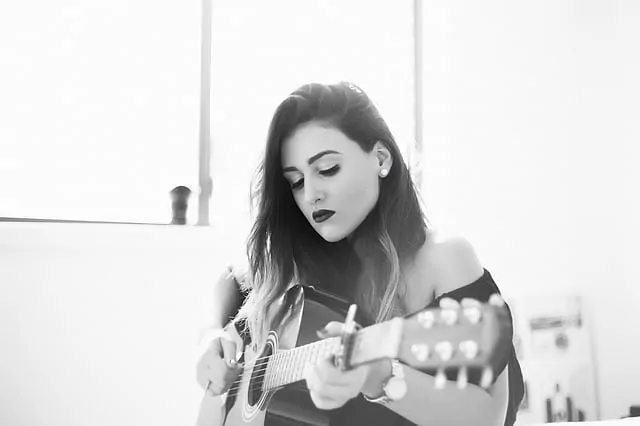 Jen is a guitarist and singer-songwriter who spends much of her time on the road and has lived in 13 cities across 4 continents. She picked up her first guitar at the age of 6 and learned to play by ear shortly after. She received her formal music education at the Berklee College of Music, and currently plays for a few bands in her free time. She has an uncanny ability to improvise creative melodies and harmonies. Her early influences include blues, jazz and rock.