Here we go again, with another Epiphone guitar review. And just like we saw on the Elitist Casino, the Epiphone Broadway is also an original hollow guitar with plenty to offer.
Although Epiphone is currently Gibson's subsidiary, they also have various original models. These original guitars and bass guitars come from the early '60s when Epiphone was a valid Gibson competition.
Many decades later and after perfecting budget and mid-level Les Paul Guitars, Epiphone still delivers what they did best back in the day. The Epiphone Broadway is a testament both to their legacy and their experience. It's where refinement and expensive guitars meet.
We're here to review the Epiphone Broadway and see what it could bring to the table. By the end of the article, you'll see if this hollow guitar is good for you.
In essence, we're going to see why this is a niche guitar, great for professional players looking for premium jazz sounds. Is there something else it can do? Not really, so be mindful of its price tag and its uses before you buy!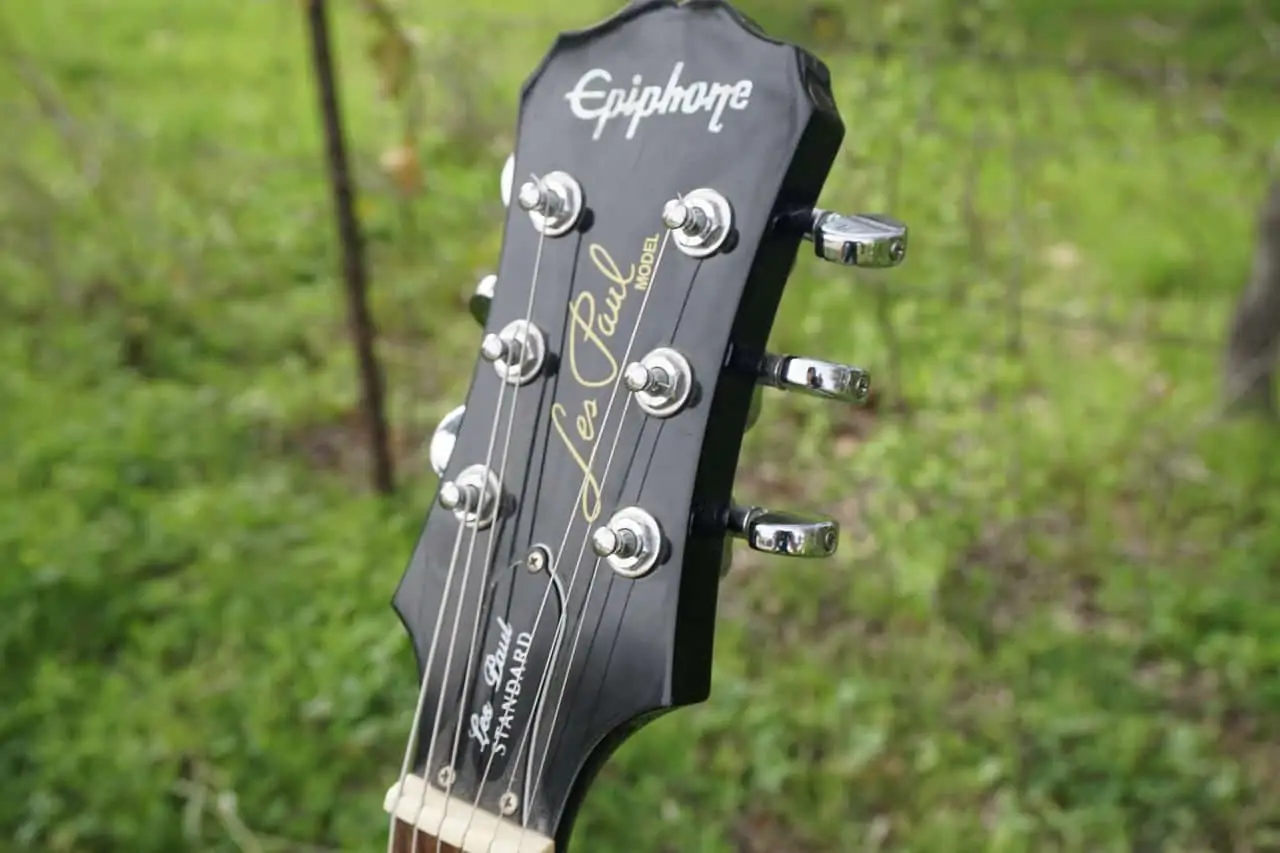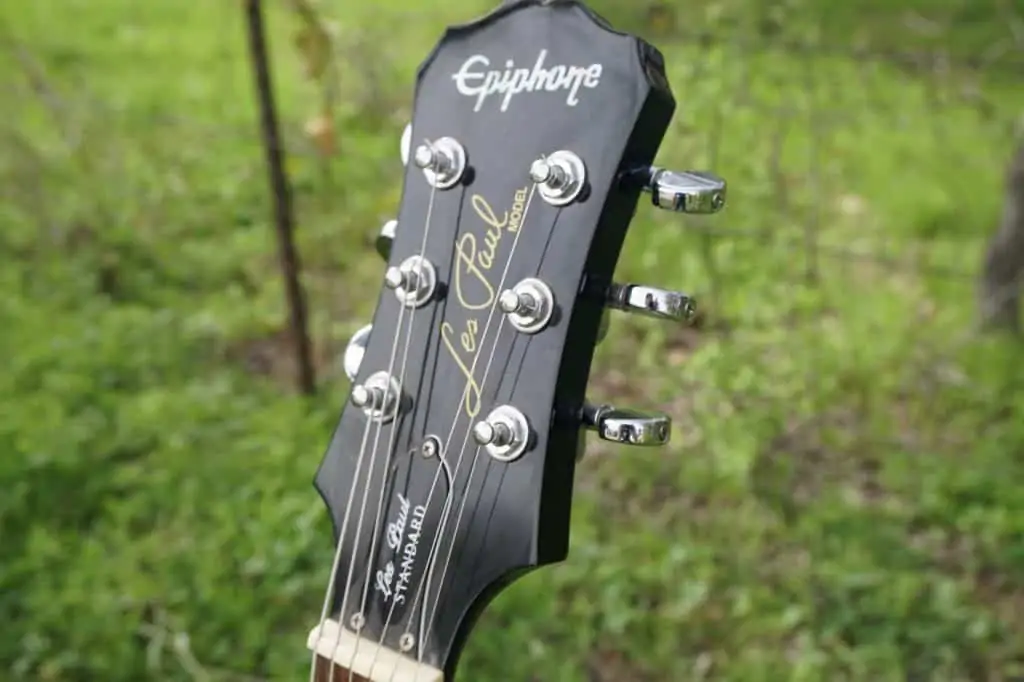 Epiphone is one of the most reputed semi-hollow and hollow guitars manufacturers.
We already covered the best hollow and hollow guitars on a separate top 10 guitars list. If you're unsure of what hollow or semi-hollow means, please check that article, or check our guide on types of electric guitars.
Also, because we talk highly of Epiphone, you could check our discussion of the best guitar brands in the market today.
Epiphone Broadway Hollow Guitar Review
The Epiphone Broadway is a premium guitar. Coming from Epiphone, experts on top-value offerings, the Broadway is capable of high-end classic blues, jazz, and rock sounds.
It doesn't cost a fortune, but it's not an affordable guitar either. With that in mind, the Broadway can make its way to the top of expensive guitar charts. And because Epiphone made some smart budget cuts, they were able to keep it under the $1000 price mark without losing anything too special.
Overall, the Broadway hollow guitar is proof of how Epiphone behaves on the upper segments of the musical market.
If you're in pursuit of a top-quality guitar that is capable of delivering a high-end classic jazz sound without costing a fortune, allow us to kindly draw your attention towards Epiphone Broadway.
Overview
If you're in pursuit of a top-quality guitar that is capable of delivering a high-end classic jazz sound without costing a fortune, allow us to kindly draw your attention towards Epiphone Broadway.
Everything else remains the same levels of quality, from the Groover tuners to the "resonator" tailpiece.
It's a seriously made guitar, with no intention of cutting corners. With all things considered, it behaves and feels like an expensive guitar with a lesser fee attached.
The Epiphone Broadway is a big jazz guitar, which is where the name comes from. It has a 25.5'' scale length, making it capable of delivering a big jazzy tone and a full spectrum of sounds.
As for the sound, it comes from a couple of Alnico Classic humbuckers playing with a floating bridge plus Epiphone's Frequensator split-trapeze tailpiece. I'll be explaining more about the hardware later on, but we already know it's quite interesting.
Built quality
As a hollow-body guitar, it has a larger body than most guitars of its kind, which is why it might take some time to master the ax.
Overall, though, the Epiphone Broadway features stellar Korean manufacturing and quality.
Body
The guitar has a laminated maple body with a premium Spruce at the top. It's a classic jazz guitar construction, with a semi-hollow body and two vintage f-shaped holes on each side.
There's a downside, though. The tonewood combination makes the guitar a bit heavier but, at the same time, it secures a steady tone signature that's bright and light.
Additionally, it has a tortoiseshell scratchplate featuring the Epiphone "E" icon plus a white binding on the sides. The color of the pickguard is brown, which is similar to the light brown color of the fretboard.
Neck
The neck is a 5-piece maple construction. It "plugs" into the body via Gibson's set-in construction (glued neck). Then, it packs a standard rosewood fingerboard, which is a bit of a let down at this price range.
Then, the neck has 20 medium-jumbo, a 12" radius plus a standard C shape profile. That delivers a standard playing experience for rhythm guitar, chords, bends, and slow-paced solos.
Finish
First, the Epiphone Broadway has a beautiful gloss finish on the neck, fingerboard, head, and body for an ultra-sleek feel and premium looks. The official name of the headstock inlay is "Tree of Life."
Plus, there're Block & Triangle Abalone inlays, which is a particular aesthetic feature.
Another aesthetic feature is the gold hardware all across, from the tuning gears to the bridge.
As for colors, the only option comes in cream/gold plus a light brown neck.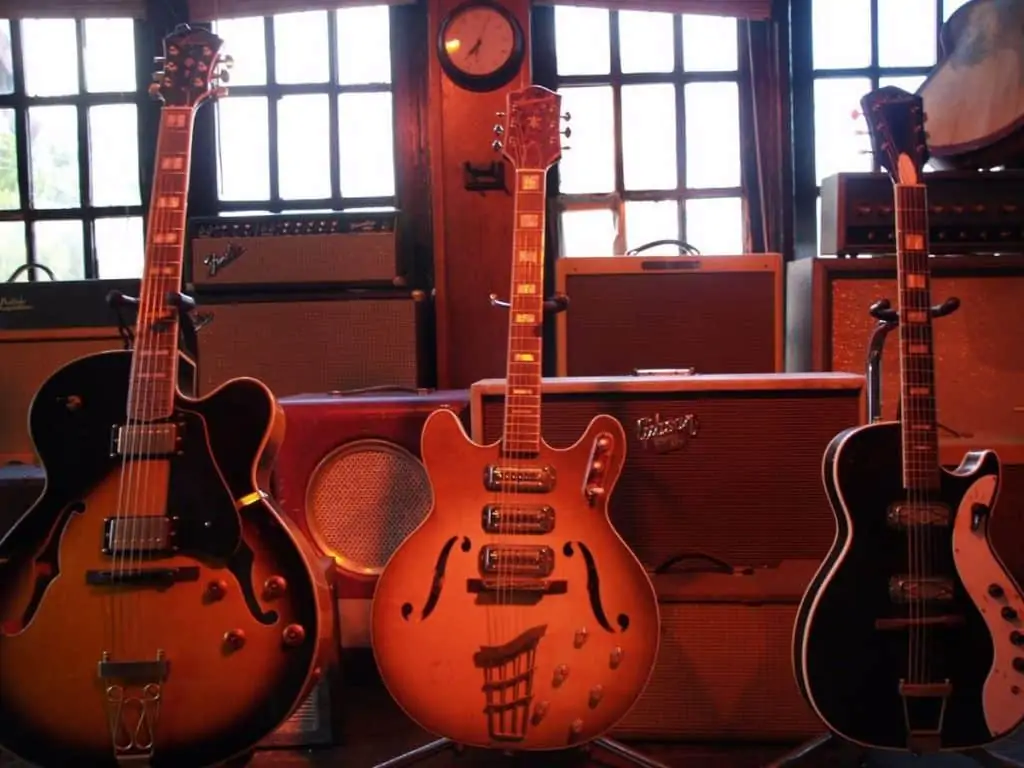 "Beale on Broadway Saint Louis Missouri" by christina Rutz / CC BY 2.0 The traditional Epiphone / Gibson color, which is Sunburst, is not currently available for the Broadway model.
Sound quality
Grandeur and showmanship are the words that come up when I think of "Broadway." Naturally, that's what I think about the guitar's sound as well.
The tone is natural, unforced, and very jazzy. It sounds as good and as classic as a hollow-body guitar can sound, and it doesn't pretend to be something else.
Its tone signature comes straight from the '50s as if it were a resonator coming through a PA system.
With a maple foundation, the guitar has a hefty amount of brightness. Then, the spruce top rounds the sound with warmth plus the right amount of bass-driven dirt/vibe.
The pair of Alnico Classic pickups, despite being humbuckers instead of P-90s like a classical hollow guitar, works perfectly. They maintain a medium output with plenty of articulation and none of the noise. Moreover, they have ample headroom to operate nowhere near overloads.
As a result, you get one of the best jazz sounds you can get, even if you don't have a proper amp for the genre. It's subtle and yet still resonant, vibrant, and powerful enough to become the main character of the mix.
I do recommend the sound for classic rock, jazz, blues, bossa nova, and similar genres. As for versatility, though, there's not much else it can do. That's why this is a niche guitar.
Electronics
The electronics department features a set of Epiphone Alnico Classic Humbuckers. These have individual tone and volume control knobs, plus a standard 3-way pickup selector switch.
Both the circuitry and the humbuckers are of very high quality, the best Epiphone has to offer at this particular price range and beyond. I can't think of a better set of pickups for the guitar.
Also, the circuitry is flawless. It introduces zero noise and delivers the amount of versatility you'd expect for classic genres.
The only downside relies on the selector switch's weakness, which might be prone to damage over time.
Feel Quality
The playability of the Broadway guitar is nothing amateur and beginner players would like. The guitar is big, bulky, and somehow heavy.
That said, it does feature the typical playability you would expect from a jazz guitar. It's made for experienced and intermediate players, and so it's not a good option to learn how to play jazz.
I bet you could already tell that by the price tag. Regardless, the Epiphone Broadway feels professional and appeals to professional players.
Hardware
The most interesting part of the hardware is the tremolo bridge, which is a floating piece. That means the bridge is loose, which allows some extra sustain on the strings.
Then, the Frequenzator tailpiece is a hardware piece that comes from the '40s, and it's still popular on archtop guitars and Epiphone hollow guitars.
It has two pieces that hold the strings in position. The duo makes the strings bend better and feel more stable across the board.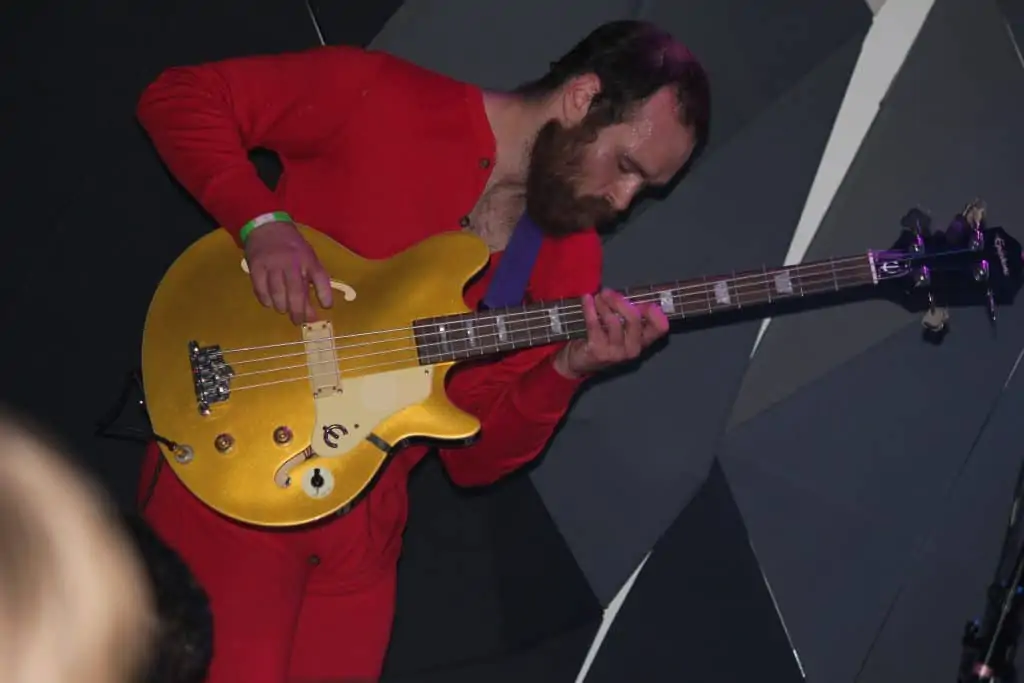 Hollow guitars are hollow within its body. That allows them to create an extra acoustic resonance that the amplifier picks up.
Downside & Alternatives
I'm keeping this section short by saying there're no downsides to this guitar.
There're other options, for sure, some cheaper and some more expensive. I consider Broadway as the sweet spot nonetheless.
If you're looking for something else, we have a list of the top jazz guitars you can buy right now.
For example, you may want another jazz guitar with a Floyd or a Bigsby vibrato. However, I wouldn't recommend installing one on the Broadway guitar as you would have to change both the bridge and the tailpiece, potentially hindering the guitar's performance.
You may also check the Epiphone Elitist Casino guitar, which is a semi-hollow model that leans less into the jazzy side and more into the classic rock.
Otherwise, you may check the Oscar Schmidt Delta King, a bluegrass and country blues guitar.
Epiphone Broadway Guitar Specs
Design: big jazz hollow body
Body tonewood: laminated maple body plus Spruce top
Neck: C-shaped neck
Neck joint: set-in 5-piece neck
Fingerboard tonewood: rosewood
Pickups: Epiphone Classic Alnico humbuckers
Controls: two individual volume knobs, two individual tone knobs & 3-way pickup switch
Tuners: Grover tuners
Bridge: Epiphone floating bridge & Frequensator split-trapeze tailpiece
In summary
Why do I like Epiphone Broadway?
For its price, the Epiphone Broadway represents a great deal. It one of the best, or perhaps the best jazz guitar for under 1000 dollars. Also, it looks great.
Regarding its built quality and tonal signature, it's a professional guitar. The addition of humbuckers plus the unique bridge design makes the instrument function without the main drawback of hollow guitars, which is feedback.
Plug it into a good amp, and you'll get the cream of the cream. But if versatility is what you're looking for, there're other jazz / classic rock guitars with extra versatility.
Final Say
The Epiphone Broadway is a top contender for the best jazz guitars you can buy right now, regardless of its price. The investment squeezes a whole lot of value and performance.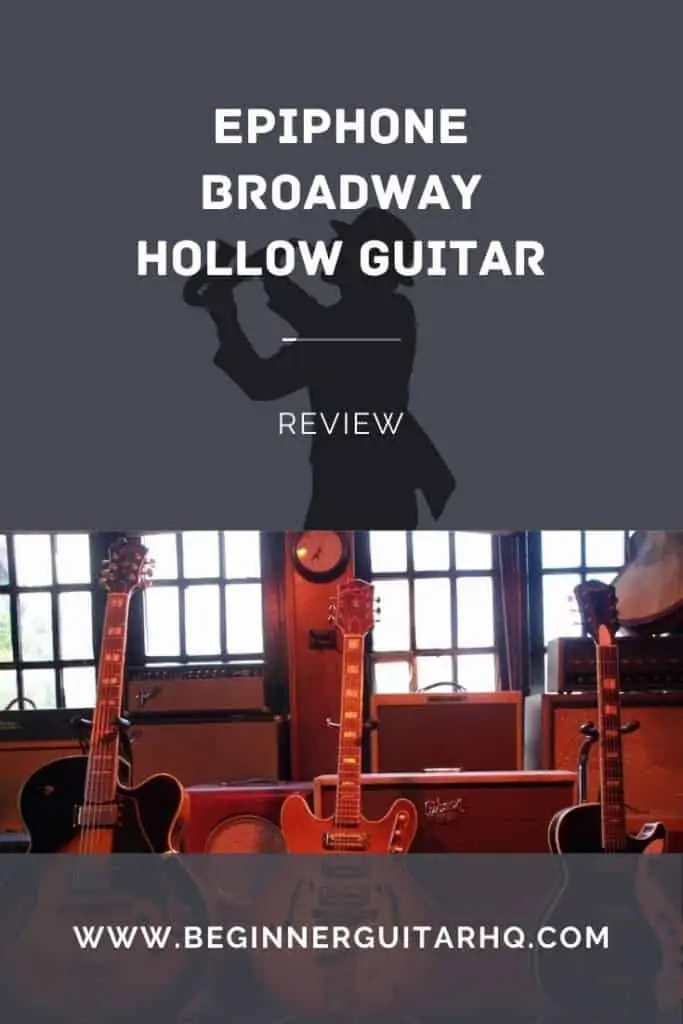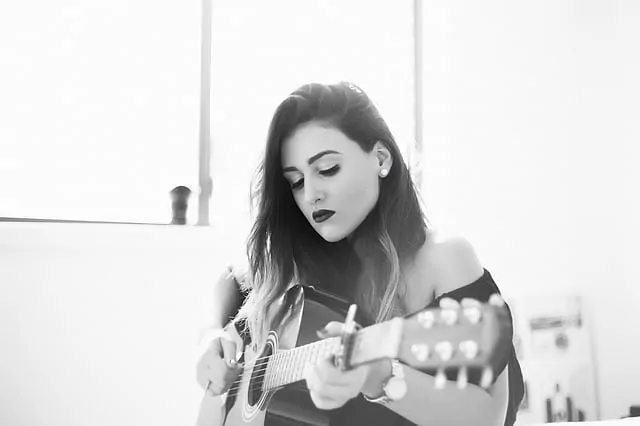 Jen is a guitarist and singer-songwriter who spends much of her time on the road and has lived in 13 cities across 4 continents. She picked up her first guitar at the age of 6 and learned to play by ear shortly after. She received her formal music education at the Berklee College of Music, and currently plays for a few bands in her free time. She has an uncanny ability to improvise creative melodies and harmonies. Her early influences include blues, jazz and rock.