Orange amplifiers come from the UK. As such, you can expect the creamy British Invasion rock coming out of their loudspeakers. That said, we're reviewing the modest Orange Crush 12, an entry-level solid-state guitar amplifier that serves as a first-timer gear.
The brand's amplifier range has a top-tier reputation. That's because legendary rock players have taken Orange gear to the highest stages and most prestigious record studios.
Such a list includes Led Zeppelin's Jimmy Page, Oasis' Noel Gallagher, Mastodon's Brent Hinds, and even Ricky Tillo (a member of Lady Gaga's onstage bands).
Their reputation goes along with the fat, dirty, powerful tones they create. Moreover, Orange amplifiers have a unique tone signature, and so there's nothing else that sounds like it.
Now, the Orange Crush 12 is not a professional option. It doesn't present itself as a 120-watts stack powering the rock to the whole scenario. Instead, the 2015 combo amplifier sports 12 watts of solid-state circuitry, a single channel, and the Orange tone you may come to love.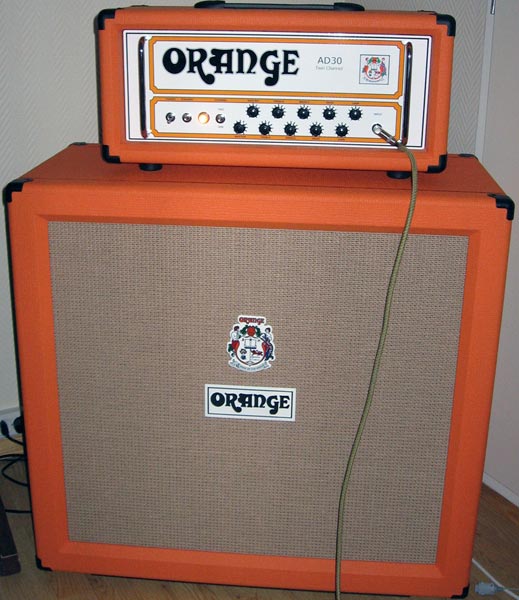 Musician Clifford Cooper founded Orange back in 1968 in London, England. He was a professional recording tech of an underground studio until he turned the studio into a music shop.
We reviewed the aforementioned Brent Hint's Orange amplifier as part of the best loudspeakers for metal genres.
Overview
The Crush 12 is the smallest model of the Crush series. The lineup delivers top-tier solid-state quality and ease-of-use. Moreover, these amplifiers shine on their near tubular -analog- tone, putting them on par with the best digital members of Marshall, Boss, or Roland.
The combo features a single channel, a 3-band EQ, and an Overdrive control to swap between clean and vintage crunch tones.
Lastly, it packs custom 6'' speakers. Orange names them "Voice of the World," and they represent the best part of the item with their punchiness and articulation.
<iframe width="1030″ height="579″ src="https://www.youtube.com/embed/SDW1-IlN45E" frameborder="0″ allow="accelerometer; autoplay; clipboard-write; encrypted-media; gyroscope; picture-in-picture" allowfullscreen></iframe>
Build Quality
The Orange Crush 12 is about 1 foot tall. It's a tiny box as it's the smallest solution of the new 2015 Crush line.
Its small size doesn't mean the construction is subpar, though. The enclosure has a woven speaker grille cloth encased behind basketweave vinyl. Around the speakers, the amplifier has aluminum and metal.
That said, the construction can sustain years of abuse while also delivering an elegant look.
Also, Orange offers the amplifier in two alternatives. There's the classic 1968 Orange Vinyl or a newer version with black color and a darker vinyl cloth.
And within the vinyl cloth, you'd find the custom-made Voice of the World speaker. Overall, the construction ensures your amp remains solid, articulate, and durable.
I/O
The top panel has a mono input plus a ¼'' headphone output. In particular, it's a cabinet-simulated headphone output, which allows you to practice in silence while enjoying the full quality of the sound.
There's no extra auxiliary input. Also, there's nothing else on the back other than the power outlet and the power switch.
Controls
The control cluster is as easy as it gets. After all, that's part of what the Crush line intends to offer.
There're knobs for volume, gain, and overdrive. There's also a 3-band EQ. All of the knobs come with the brand's hieroglyphics.
I must add the solid-state circuitry keeps the weight down while maximizing the tone of the amplifier.
Sound
The modest design of the Crush 12 is everything you need to practice at home, learn, and play around for fun.
More than that, it has everything you need to create a great sound and accommodate your guitar pedals. Its circuitry delivers a tone-rich sound that may travel from clean to overdrive smoothly through the Overdrive knob.
Moreover, the tone circuit has a four-stage preamp that imitates the Dirty channel of Orange's Rockerverb amplifier series, which also were solid-state.
See, the gain and overdrive controls allow you to tweak the amount of grit you want. Then, the volume knob keeps your guitar's level in check, right when you want it to be.
The clean tone shines as well with sparkle and scooped mid-range sounds. There's also a lot of headroom on clean, and so you'll be able to experiment with high-output guitars and even distortion pedals without getting unwanted clipping.
On the other side, the overdrive can cut through any mix with plenty of texture and depth. It lets your guitar soar with sustain and ring.
With all of that in mind, I believe the tiny Orange Crush 12 has the kind of quality you'd want for your home studio recordings.
Overall, both clean and overdrive tones are amazing. It sounds generally crips and sharp on single-coil pickups, whereas deep and fat on humbuckers.
Versatility
The presence of a 3-band EQ is a great addition to small amps. Generally, the EQ cluster on practice amps relies on high and low knobs, or sometimes a simple tone knob.
With a full 3-band EQ, though, you have a versatility you won't normally find at this price range.
Speaker
The Crush 12 uses 6'' custom Orange speakers. The Voice of the World strikes a balance between vintage highs, modern lows, and gritty mids. It also maintains clarity even when running metal distortion pedals.
CabSIM output
The last feature I should highlight is the CabSIM circuit on the output jack for headphones. It emulates the power, nuance, and tone of an Orange 4×12 cabinet running through a stage microphone.
It's a feature that also works on a mixer desk or audio interfaces. That allows you to enjoy the big Orange sound in your home studio.
Downsides & alternatives
The only downside I find on the amplifier is the lack of a reverb effect, which is a standard addition for most guitar amps. The lack of an aux input might also be a deterrent
Either way, if you're looking for an onboard reverb, there's the Orange 20RT. It comes with some extra features like reverb, aux input, two channels, and a built-in tuner. And, more importantly, it packs 20-watts of power.
You can go forward on the price range for the Orange Crush 35T. It adds an analog signal pack, a buffered effects loop over the 20RT.
In Summary
We kept the review short as the Crush 12 is a simple, no-nonsense amplifier. It's one of the best practice amps you can find for the price, brought to you by one of the best manufacturers in the market.
The quality is also enough to record at home. With its CabSim out, there's a lot of room to play and experiment.
Overall, the Orange Crush 12 delivers a perfect tone for practice and more. Just don't expect a live performer or something you can take to rehearsals.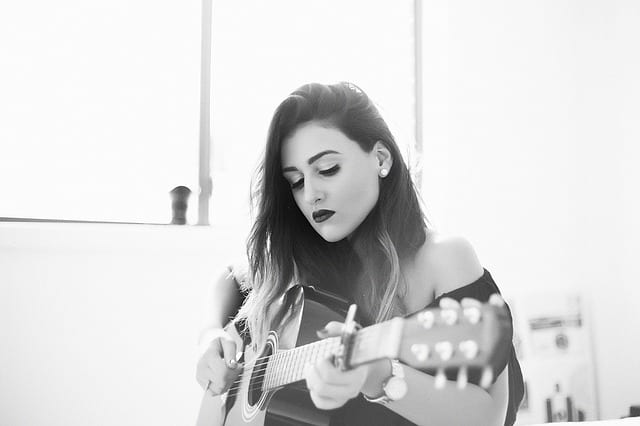 Jen is a guitarist and singer-songwriter who spends much of her time on the road and has lived in 13 cities across 4 continents. She picked up her first guitar at the age of 6 and learned to play by ear shortly after. She received her formal music education at the Berklee College of Music, and currently plays for a few bands in her free time. She has an uncanny ability to improvise creative melodies and harmonies. Her early influences include blues, jazz and rock.