Musicians are a breed that thrives on inspiration, and being able to get down this muse is vital in being successful as a musician. Having a field recorder is therefore essential for a musician.
Recording sessions, rock concerts, and rehearsals are parts of those moments when having a quality recorder can be invaluable.
However, a recorder is not just for song ideas that pop-up in your head during those aha moments, it should also cater for your other needs as a musician.  It should have excellent innovative, and thoughtful features that help you get more creative while getting the best sound quality during those home studio sessions .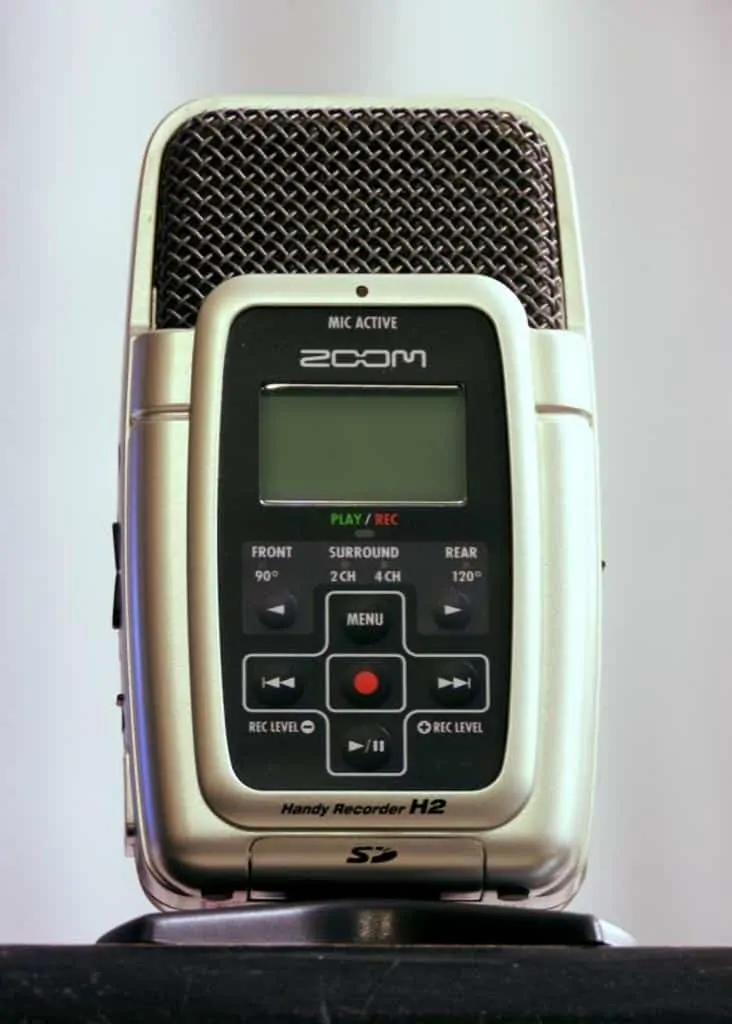 A recorder can come in really handy for those impromptu moments of inspiration 
A lot of recorders are available in the market today, but choosing the best field recorder will largely depend on its intended use and the quality of sound that is acceptable.
Here, I enumerate the best field recorders available in the market for musicians and the features that make them unique and suitable for every musician on an individual basis.
Without any further ado, let's check them out!
1. TASCAM DR-40 Portable Digital Recorder
TASCAM is one of the fairly-known Field Recorder manufacturers but is big on great quality when it comes to portable digital recorders. One product with this quality is the TASCAM DR-40 digital recorder.
Though very affordable, the DR-40 portable recorder features incredible functions, including a four-track recording channel that allows for overdub over these four channels without loss of signal on any of the tracks.
The in-built mic comes in handy in recording clear surround sounds. Also, the in-built XLR input is available to plug-in the XLR cables for an external mic or a music instrument to get high-quality sounds. The in-built recording mics are adjustable in either the A-B position or the X-Y position to suit the present situation.
Recording with a video is easy as the DR-40 allows you the freedom to capture live quality audio to accompany your video. You simply connect the shotgun mic through the line input and then activate the phantom power to get a seamless, coordinated sound.
The accompanying three AA batteries ensure a long recording time. Also, the high sound pressure design delivers clean, clear sounds, whether it be an indoor environment or an outdoor situation.
TASCAM DR-40 recorder is also very portable and allows the musician to have it handy when going for stage performance or studio sessions.
Other functions available on this DR-40 recorder includes a peak sound detection and reduction function, XLR/TRS cable locks, dual-mode recording. There is an inter-device connection for transferring audio files, tuner, and reverb effects to give the inspired musician more creativity for great sound possibilities.
The TASCAM DR-40 digital recorder is well-built creative musicians who seek impressive sound quality and more audio potential from a recording device.
Pros
Affordable
Nice sound quality
Sturdy and durable
Adjustable built-in mics (A-B or X-Y  positions)
Tuner and reverb effects
Easy to use
Good battery life
Cons 
Compatibility difficulties with some operating systems
2. Zoom H6 Six Track Portable Recorder 
The Zoom H6 recorder is an amazing recorder for the musician in many ways. The first easily noticed feature you're likely to encounter is its sets of buttons and knobs to assist you in achieving a nicely recorded audio  irrespective of the recording environment.
The display screen is located ergonomically at the bottom half of the front panel just below the main control buttons. This screen is a full-color LCD screen that makes the menu and navigation come alive. It also features two mic capsules – the MSH-6 MS mic capsule and XYH-6 X/Y mic capsules. These are swappable and are responsible for clear, quality sound when used in different environments.
This lightweight recorder can have as much as 128GB SD card storage, which means you won't be complaining about storage for your recorded sounds. It also boasts of accompanying sound-editing software (Cubase) to reduce using vst plugins, a USB connection cable, 4AA batteries for power, as well as a windscreen.
Added is an operational manual for easy control, and navigating its functions, the case ensures it is adequately protected. The six tracks of multiple recordings on the Zoom H6 are a step above the norm and, this gives musicians the perfect tool to express their creativity. Layering multiple tracks of musical instruments and vocals on a recorder has never been this easy.
Other facilities on this Zoom H6 recorder include four line-in or mic inputs, which uses a TRS/XLR connector that has got individual volume control, -20dB pad, as well as phantom power.
The Zoom H6 recorder can keep unwanted ambient noise to the barest minimum, which is an improvement from its earlier designs.
Pros
Great sound quality
Multiple recording tracks
Very handy
Huge storage capacity
Added editing software
Lightweight
Conserves power
Cons 
A bit pricey
Has many buttons that make control a bit complex
3. Roland R-05 Studio WAVE/MP3 Recorder
While many field recorders may be disappointing with their claims regarding ease of use, the Roland R-05 Studio Recorder delivers on its promise of intuitive and uncomplicated usability.
With a well-built, durable, and regular-shaped form that users can identify with, the Roland R-05 recorder comes with controls and buttons that give you quick access to functions while recording.
The controls make this recorder a musician's favorite with functions like auto record start, auto song split, and auto level adjust, which all enhances the musician's abilities and reduces the time spent fussing with the recorder with these automatic functions.
Its portability and lightweight also makes carrying it around stress less activity, allowing you to record your sounds wherever you may be.
The quality of recorded sound is also pretty high as it comes from the in-built stereo mics and external input of 24-bit/96kHz specifications. At the same time, it also can play Mp3 and WAV sounds.
It features 2AA NiMH batteries, which can last up to thirty hours of record time with musicians able to get down their song ideas without losing any inspiration that they've got in an instant.
Other musician-friendly features include loop controls, tempo change (without changing its pitch), reverb effects onboard, and in-built sound editing software to enrich rehearsal times.
Though not the cheapest recorder in the market, the Roland R-05 Mp3/WAV recorder is quite affordable and has quality features to justify its cost.
Pros 
Good battery life (30 hours)
Intuitive and easy to use
Portable and lightweight
High-quality stereo sound
Durable
Cons 
4. Zoom H5 Portable Recorder  
Zoom is no pushover when it comes to portable recorder manufacturing. Their recorders are very prominent in the field recording category. This Zoom H5 portable recorder is one of such quality recorders produced by Zoom.
The H5 portable recorder's outlook gives you an impression of a sleek and modern portable recorder design. It has its display screen (which is LCD, by the way) is backlit, where a menu for navigation and different settings can be accessed. Its other controls are all located at the bottom half of the front panel, and they include controls like the start button, play, record button, and fast forward.
The level control knob has a protective metal bar for maintaining stable levels as well as limit damage during unintentional falls. Other protective features include a rubberized body, which allows for adequate grip and reduces the probability of falling when held with wet palms. It has an overall solid build, which gives high confidence in reduced damage during accidental bumps or drops.
The mic on this recorder is probably its best feature seeing that it is thoughtfully arranged to secure and protect it from damage as well as for producing the best-recorded sounds for multiple scenarios.
The dual-line inputs have a combination of XLR/TRS connectors. At the same time, they individually possess -20dB pad as well as selectable phantom power. The interchangeable system for the input capsule is also available as it is with most of Zoom's recorders. This system allows for the selection of different mic input choices for different ambiance, not forgetting the shock mount, which disallows noises due to vibration.
The Zoom H5 portable recorder is a charm when recording various events, including stage performances, studio interviews, outdoor interviews, podcasting, and practice sessions. All these recordings can be done simultaneously for up to four tracks and are safely stored in the SD card which is 32GB, but can be as much as 128GB.
Pros 
Nice sturdy build
Rubberized body to limit vibration-induced noise
Very portable
Has Cubase for audio editing
Lightweight
Cons 
It is a bit pricey
Feels awkward
5. Zoom H4N Pro Digital Multi-track Recorder
Zoom seems to dominate the field recording market as a result of no fault of theirs seeing that they constantly dole out new field recorders with the new addition of thoughtful features.
This field recorder – the H4N Pro is one such new thoughtful product from ZOOM. The recorder features some of the best functionalities in a field recorder, including an LCD screen with background lights to effectively display the menu and functions.
It also adds handy and intuitive controls on the front panel including input mode controls which has three option buttons, play, fast-forward, reverse, and record buttons,
This recorder is both portable and compact, with a weight of three hundred grams. These properties indicate that you can carry it to any recording location with ease.
It can also withstand some forms of abuse or misuse with a rubber integrated body to absorb the shock from accidental bumps and fall. However, using a tripod stand as opposed to holding it during a recording session is best as it delivers a better sound when mounted on a stand.
The sound filtering on this recorder is also superb as it can handle sound pressure of as much as 140dB making a good device for recording both rock concerts as well as jazz bands.
The in-built microphones are adjustable depending on the environment to pick the sounds accurately and clearly when close or when you have a wide-angle during the recording time. The ZOOM H4N is capable of 24 bit/96 kHz sampling through its four-channel or stereo recording.
With ¼ inch stereo line-out for connecting external video cameras, the ZOOM H4N can instantly turn into an external mic to record high sound for your video recording.

Great feature to have on a recorder is a line-in to enable connecting external mics or other musical instrument for direct recording 
Overall the ZOOM H4N has several brilliant and efficient features that allow musicians to fully express themselves and to get the best of every recording situation.
Pros
Compact and portable
Accompanying editing software
Impressive audio quality
Stereo line-out
Respectable battery life
Cons 
6. Handy Zoom H1n Recorder    
One convenient and portable audio recorder is this Zoom H1n audio recorder, which has got a lot going for it.
First is the compact body design that has a slim, stylishly matted color for the complexion, with an added mic that sits within its cocoon-like protective exterior.
Though, a basic model, the Zoom H1n doesn't lag when it comes to solid, sturdy, components to withstand many forms of abuse. The quality of recorded sound on this petite recorder is also pretty good. It can deliver in almost every situation you put it through without any worries.
For display, the Zoom H1n has a small but obvious LCD screen that displays navigation points and menu. It has control buttons that give musicians the versatility during times of inspiration for songs, TV audio recordings, music sessions, shred sessions, or even interviews.
One such button, the one-touch button, gives the musician a lot of freedom and leverage to achieve more where different functions and menu pop-up at the first touch of a button.
Another important control button is the A-B button, which enables musicians to practice challenging passages during a score session. The playback speed control is equally essential in clearly hearing all the notes of a music piece, especially during transcribing on music sheets.
This recorder can be a great asset to the rising musician as well as the experienced music veteran considering its advanced limiter. The limiter on board is responsible for high-quality sound without any sort of jerkiness in audio quality, especially in very noisy situations like rock concerts, and jam sessions.
One exciting control that releases the musician's creativity is the overdub button as it makes adding another sound to a pre-recorded sound possible, giving you a lot of aha moments.
Other stimulating features available on the Zoom H1n include an X/Y mic in-built for covering vast spaces with crystal clear sounds and slate and tone generators tagging along for wholesome recording experience. Tone generators are necessary to sync audio with the pictures at specifically defined points in the recording.
The pre-record and auto-record settings are a delight to use on the Zoom H1n while not forgetting the self-timer record-setting, which adds more automation abilities to the recorder.
Pros 
Very portable
Good battery life
Intuitive controls
Budget-friendly
Great auto settings
Cons 
It has a cheap plastic feel
Not the best for professional recording
7. Zoom H2n Handy Recorder
Another functional yet quality recorder from the stables of ZOOM is the ZOOM H2n portable recorder with such useful features, including an instant boot time without any delays in catching quality sound from ongoing sessions.
The Zoom H2n is designed as a very portable recorder to fit into the palms of your hand. It can fit into your pocket like your average smartphone for easy carrying around.
With an unprecedented five in-built mic, the H2n recorder has all it takes to perfectly capture every sound clearly and precisely. The mics arrangement suits each recording situation with recording modes that allow for stereo X/Y, stereo mid-side, two-channel, as well as four-channel surround record mode.
It is set out with the bottom side of the front panel accommodating the LCD screen, where the menu displays features like a metronome, auto-gain, playback controls, and loop settings all displayed on the screen.
As a musician, the H2n comes with some musician-friendly features, including compressor effects, tuner, and sound filtering functions. Other features include pre-record function, auto-record, and data recovery feature to recover lost or mistakenly deleted audio files. All these features contribute to the uniqueness of the ZOOM H2n recorder.
Furthermore, this recorder has one of the best battery lives for a portable field recorder with as much as twenty hours of record time using two AA alkaline batteries.
For inter-device file transfers, the ZOOMH2n has a USB input that lets you transfer files from the recorder to your computer for further sound improvements. 

Being able to connect your recorder to your computer for further sound editing is essential 
Finally, this recorder makes a 360-degree recording for special audio VR sounds possible as available on Google Jump Virtual Reality platform, while also using it as a USB mic or as a digital audio interface.
Pros
Portable
Excellent battery life
Durable
Tuner, compressor effects, and metronome
In-build sound editing features
Great sound quality
Cons
8. Sony PCM-M10 Portable Linear PCM Voice Recorder
For a recorder that is barely the length of two index fingers and a thickness of one index finger, this portable recorder from Sony – the PCM-M10 sure has a lot going for it.
In terms of portability, the Sony PCM-M10 has one of the most regular shapes that can fit into the smallest of spaces, including the palm of your hands. This characteristic makes it a good candidate for carrying along to every occasion where recording is needed.
Furthermore, the performance of this sleekly-designed recorder is backed by some efficient, cost-effective components that you may not find in another recorder in its category.
Components including electret condenser stereo mics, which ensures consistent signal processing without the need for the high supply voltage. This feature, in turn, presents you with a device with great battery life.
The storage capabilities of this recorder are not limited to its 4GB internal memory as it also has a space for micro SD slot, equipping you with added storage for those long spells of music inspiration.
Other enhancing features include its USB port for audio transfers between devices, including Windows and Mac recording laptops. There is also a built-in speaker, which allows for playing both MP3 and WAV audio sounds.
There are still controls that help you achieve more with your music endeavors, including a digital limiter, cross-memory recording, track mark functions, as well as pitch and key control to decide the right pitch or key for the recording.
The A-B repeat feature is also a priceless offering of this recorder as it comes in handy for playing back hard-to-get sections of a recording during scoring sessions.
Overall, the Sony PCM-M10 is very durable and aesthetically-pleasing while not neglecting the remarkable quality sound.
In terms of style, the Sony PCM-M10 is very attractive, with a rugged and durable body. It's very compact, fitting into the palm of your hand, which makes it great for field recording.
Pros
Easy to use
Great storage facility
Sturdy and strong
Portable
Quality sound
Cons
9. TASCAM DR-100mkII 2-Channel Digital Recorder
The TASCAM DR-100MKII recorder has a strong, well-built body to handle impacts from rough handling while adding exceptional sound quality to the package.
The nice-looking design testifies of the level of thought put into building this recorder. With performance-enhancing features, including two multi-directional mics and another two cardioid mics, all ensure that a well-balanced sound recording is achieved.
For the musician who is looking to get more from a field recorder, the DR-100MK recorder offers an additional S/PDIF digital input slot that can be accessed for direct digital signal input and recording. These input slots have connector locks that ensure the cables are securely fixed into the recorder, which reduces the occurrence of hissing feedback sounds during recordings.
With an anodized aluminum body, the DR-100 MK recorder is built to survive harsh conditions, including bumps and multiple accidental falls. The two added AA alkaline batteries give this recorder many hours of recording time, with a USB cable for the transfer of files between devices.
Other supported accessories include a wireless remote powered by a coin cell battery, soft case, 2GB SD card, and windsock.
In all, the TASCAM DR-100MK recorder is well-suited for musicians who perform recording in harsh conditions and need high sound quality despite such circumstances.
Pros 
Very durable
Balanced sound
Secured connections
Inter-device transfers
Good battery life
Easy to use
Cons 
XLR cables can sometimes get stuck and become difficult to remove
10. Yamaha PR7 Pocket Recorder
Yamaha is a household name when it comes to quality-sounding music instruments, and they have not disappointed with this PR7 Pocket Recorder. This recorder has improved a lot in its portability, with it being part of Yamaha's ultra-portable models. This ensures that you are armed with the recording ability of different events, no matter where it is happening.
It also has an advanced Pulse-Code Modulation (PCM) technology, which enhances the output of the sound recording. The accompanying X/Y arranged stereo mic ensures that the sound taken is consistent with natural character to it, and it's of high stereo quality.
For the musician who is keen on capturing rehearsal sessions, the PR7 pocket recorder is one reliable equipment to possess. With its in-built metronome, which ensures regular and consistent tempo, as well as its integrated tuner, which confirms the right pitch, taping rehearsals should be rewarding.
Other stimulating functions include overdubbing for recording a new sound over pre-recorded audio, and marker editing functions for editing specific points within the recording.
There are easy-to-use controls provided for the user to access these thrilling functions and menu, with the inclusion of five presets for getting the best out of different recording environments.
This field recorder is for musicians who desire high portability and quick access to functions in a recording device in various situations.
Pros 
Quality Sound
Incorporates a tuner and metronome
Very portable
Reasonably-priced
Solid design
User-friendly
Cons 
Limited battery power
Small storage space
Final Take 
Not every Field Recorder will be best for you as a musician. The solutions for your recording needs, be it rehearsal sessions, shredding sessions, or even stage performance, will depend on your desired sound output after recording.
Affordability, portability, storage and battery consumption, quality of recorded sound, quality, arrangement, as well as the number of in-built mics, are some of the things to watch out for when getting a field recorder. However, it will significantly depend on the musician as everybody has different needs.
Cheers!!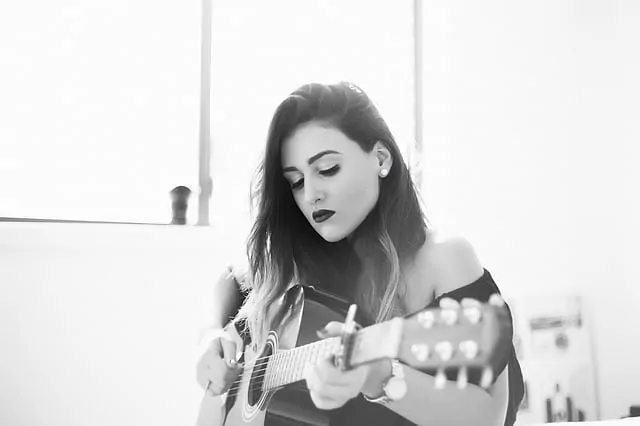 Jen is a guitarist and singer-songwriter who spends much of her time on the road and has lived in 13 cities across 4 continents. She picked up her first guitar at the age of 6 and learned to play by ear shortly after. She received her formal music education at the Berklee College of Music, and currently plays for a few bands in her free time. She has an uncanny ability to improvise creative melodies and harmonies. Her early influences include blues, jazz and rock.